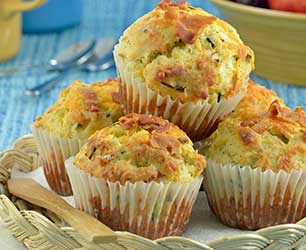 We love protein rich, vegetable packed muffin cup meals. Scroll back through Dr. Shillingford's blog posts and you'll find a plethora of recipes using muffin cups. Why? They're cute, yes, but that's not (completely) why. Read on for three awesome reasons to consider making more muffin cup meals.
One of the hardest things new gastric sleeve, gastric bypass, and lap band patients face is portion control. Many post bariatric surgery patients are used to eating larger portions. By using muffin cups, bariatric patients are presented with their food in a nice small package and a more reasonable portion size for their newly resized stomach.
Let's face it, we all eat on the run sometimes, even gastric sleeve, gastric bypass, and lap band patients. Life gets busy, and some days we just don't have the time to sit down and eat. But protein rich muffin cup meals are very portable. Many muffin cup meals are easy to eat in the car or while walking, and many can even be eaten one handed. So, the urge to stop for drive through food should be stifled if you can remember to grab a portable muffin cup meal out of the fridge and reheat it before starting your journey.
If you can't eat all of the muffin cup portions before they go bad, you can try freezing them. Since they are already in single serving portions, just wrap them up individually and freeze. When you need a quick meal, reach into your freezer, grab one, and reheat. Since they are small, reheating is rather quick. They make the perfect grab and go lunch to bring to the office, or can reheat quickly for breakfast while your coffee is brewing.
They make portion control easy
They're portable
Easy to freeze and reheat
Ready to try a muffin cup meal? Eggs work great for a protein rich muffin cup meal, but this recipe used quinoa and channels the flavors of a BLT for a quick breakfast, lunch, dinner, or snack. They're even gluten free for those who need to avoid wheat.
Buffalo Chicken Bites
Adapted from www.IowaGirlEats.com
Makes 30 mini cups
¾ cup dry quinoa
1 ½ cups chicken or vegetable broth (or water if you don't have any broth on hand)
2 eggs
3 egg whites
1 cup frozen spinach, thawed and squeezed completely dry
1 cup shredded cheddar cheese
½ cup cooked and crumbled bacon (about 8 slices)
½ cup chopped tomatoes
1 green onion, chopped
2 tbsp grated parmesan cheese
Salt and pepper
Directions:
Bring broth to a boil in saucepan.
Meanwhile, rinse quinoa very well in a fine mesh strainer under cold running water.
When broth is boiling, add rinsed quinoa. Cook covered about 15 minutes, until broth is absorbed and quinoa is tender. Remove lid and let quinoa cool.
Preheat oven to 350 degrees. In a larger bowl, combine all remaining ingredients and stir to combine.
Add cooled quinoa and stir to combine.
Spray mini muffin tins very well with nonstick spray, fill with quinoa mixture, smoothing the top with the back of a spoon.
Bake 15-17 minutes, or until the top is golden brown.
Let cool 5 minutes, then run a sharp knife around the edges and pop the cups out with a spoon. Cool on a cooling rack
Store in the refrigerator (or freezer) and reheat for 30 seconds in the microwave.
The above is offered by Dr. Shillingford, M.D., P.A., a board certified surgeon specializing in advanced laparoscopic and obesity surgery. Dr. Shillingford is widely known in South Florida for affordable gastric sleeve, gastric bypass, and adjustable gastric band surgery. His patients travel from all over Florida, from Miami, to Wellington, to Orlando, and Jacksonville, and from other states, including New York, New Jersey, Ohio, Texas, Georgia, and Hawaii. Dr. Shillingford's bariatric patients are often interested in high protein recipes to help them succeed in their weight loss journey.