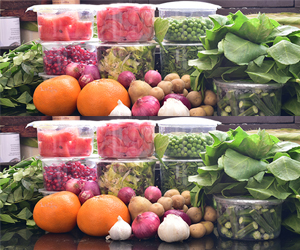 Let's face it, food is expensive, and it seems healthy foods like fresh fruits and vegetables, whole grains, and lean proteins can be even more expensive. For people trying to incorporate healthy foods into their lifestyles, such as gastric sleeve gastric bypass, and lap band patients, it can extremely frustrating to gather ingredients for a fresh, home cooked meal only to find your main ingredients are now a pile of moldy mush. Not only is it disheartening, but it can lead to going out for dinner, which not only can add to expenses but add to your overall calories and stunt weight loss efforts.
Storing foods properly can help ensure they are still fresh and full of flavor and texture when you eat them. But, common practice for storing foods may not be the best practice. In this series, we will help identify foods that are commonly stored improperly and inform you of the best way of storing them peak freshness and quality.
Leafy Greens
Kale, collard greens, mustard greens, spinach, swiss chard, and lettuces along with other leafy greens can decay and wilt quickly. This is often due to moisture collecting on the leaves. To avoid this, wrap the leafy greens in paper towels and store in an open plastic bag in the crisper.
Nuts
Nuts can be great snack for gastric sleeve, gastric bypass, and lap band patients. They are filling, crunchy, salty, and have both protein and heart healthy oils. But, these oils can be sensitive to heat. While it's best to store nuts at room temperature (on a shelf or counter, for example), make sure to store them away from the stove or other heat producing appliance to prevent the oils from going rancid faster.
Berries
Berries are super delicious and healthy, but very fragile. While some people are in the habit of washing fruits and vegetables after purchasing so that they are fresh and clean to grab and eat, this doesn't work for berries. Strawberries, raspberries, blueberries, and blackberries are best stored in their original clamshell container. Before putting away, inspect the container for any berries that are moldy and toss these. If any berries are extra soft and look about to turn, remove them from the bunch so they do not speed up decay of the remaining berries. If some berries are soft but not moldy, eat them first, or freeze them right away and use in smoothies.
The above tips are offered by Dr. Shillingford, M.D, P.A., a board certified surgeon specializing in laparoscopic bariatric surgery. Dr. Shillingford performs gastric sleeve, gastric bypass, and gastric band surgery at one of South Florida's few hospitals designated as a Center of Excellence for Bariatric Surgery by the American Society for Bariatric Surgery. Some of his patients come from local areas, such as Miami and Fort Lauderdale, but his reputation and skill also attract patients from as far away as Orlando, Jacksonville, Sarasota, Tampa, Fort Meyers, and Naples.