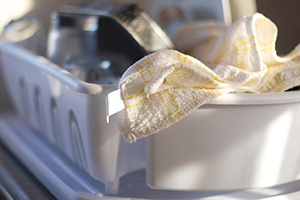 Take a guess as to one of the dirtiest and germiest things in the kitchen besides the dish sponge. (Not that the sponge isn't gross, but we're talking about something else here.)
We're talking about the dish towels. Yes, they can be pretty, but that doesn't mean they aren't teaming with bacteria. Chances are you should wash them more often than you think.
We use dish towels to dry things, like dishes and utensils, cups, and countertops. And according to a 2014 study at the University of Arizona, 89% of dish towels had coliform bacteria, and 25.6% had E. Coli. That means you are most likely spreading bacteria onto what you think are clean surfaces.
This poses a risk of bacterial contamination that is important for surgical patients to be aware of. After gastric sleeve, gastric bypass, or lap band surgery, or other types of surgery (hernia surgery, cholecystectomy, biopsy, etc), you are at a higher risk of infection, and as such it's always best to reduce the risk of infection. If you commonly use dish towels in the kitchen, you may want to think about how often you wash them. If they are obviously soiled, toss them in the hamper for your next load of wash. According to the University of Arizona, ideally you should wash dish towels after every use. Otherwise you can soak them in a diluted bleach water bath between washes. But, as a rule of thumb wash dish towels more frequently than you do, at least once a week.
The above is offered by Dr. Shillingford, MD, PA, a board certified surgeon specializing in advanced laparoscopic and obesity surgery. Dr. Shillingford encourages his surgical patients to follow the advice they are given upon discharge from the hospital. Being extra careful to avoid bacterial cross contamination, especially in the kitchen, after gastric sleeve, gastric bypass, or lap band surgery is a good thing. Another important reminder is to wash your hands often to reduce the risk of infection. Dr. Shillingford's aim is to keep all of his surgical weight loss patients as healthy as possible. For more information on gastric sleeve, gastric bypass, or lap band surgery contact Dr. Shillingford's Boca Raton office today at (561) 483-8840.