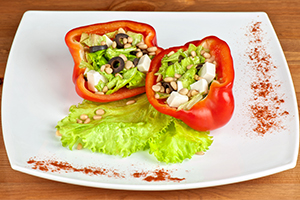 Everyone seems to love brunch. Everyone also seems to love tacos. So combine the two and you've got a winning combination for sure!
While it may not be tacos per se, the flavors of this stuffed pepper are taco inspired. The secret is to eliminate the taco shell to reduce the carbohydrate content of the meal in order to make it fit much more easily into the post bariatric diet for gastric sleeve, gastric bypass, and lap band patients.
It doesn't even have to be for brunch. This stuffed pepper could just as easily be for breakfast, lunch, or dinner as long as you are in the phase of your post bariatric surgery diet where you are able to eat whole foods, including fresh vegetables and eggs.
The egg and the cheese provide high quality protein. The spinach and the pepper provide fiber, vitamins and minerals. Combined, you have a high protein, low carbohydrate meal packed with vitamins, minerals, and fiber that can promote weight loss after bariatric surgery and taste great while doing it.
This recipe would also work well for diabetics as it in low in carbohydrates but is filling and packed with fresh vegetables and fiber, which can help control blood sugar. Diabetic could easily add in some black beans if they needed some carbohydrates or extra fiber. Diced avocado can also make a great topping for heart healthy fat.
Brunch Taco Stuffed Peppers
2 small or medium green or red peppers
2 eggs
¼ shredded cheese (cheddar or monterey jack are good choices)
½ fresh spinach
¼ red onion, minced
1 tsp olive oil
2 tsp salsa
Spices: chipotle, cumin, chili powder, salt, pepper
Fresh cilantro, if desired
Directions:
Cut the top off each pepper and scoop out the seeds. Bake on a foil lined pan for 15 minutes at 400 degrees (if you like your peppers a little smoky, broil on low for a few minutes until blisters form).
While peppers are baking, saute onion and fresh spinach in oil. Stir in your choice of taco inspired spices, plus salt and pepper to taste.
When peppers are ready, scoop equal amounts of the spiced spinach mixture into each pepper. Next, add shredded cheese.
Crack an egg into each pepper cup. Bake again for 15-20 minutes or until the egg is fully cooked.
Top each with a spoon of salsa. Sprinkle with cilantro.
This recipe suggestion is offered by Dr. Shillingford, MD, PA, a board certified surgeon specializing in advanced laparoscopic and obesity surgery. Dr. Shillingford performs gastric band, gastric bypass, and gastric band surgeries for obese and overweight patients with comorbidities, such as diabetes, hypertension, and sleep apnea, as well as other medical conditions that can be improved or reversed with weight loss and a controlled diet. Dr. Shillingford takes great pride in helping his patients improve not only their appearance, but also their health. His weight loss surgery patients often come to his Boca Raton office from nearby Fort Lauderdale, Miami, Parkland, and Coral Springs, as well as farther locales like Tampa, Orlando, and Jacksonville. Many patients are happy to travel the distance to have their surgery with Dr. Shillingford, who is highly regarded as a leader in bariatric surgery in South Florida, but is also known for his compassionate care and bedside manner.