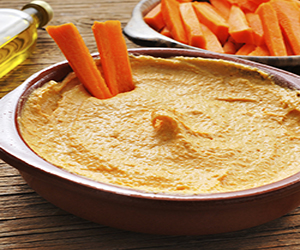 Hummus has been the new trend in snack dips in recent years. It's better for you than creamy dips. It's delicious. And it's nutritious. More than that, it's vegan, it's gluten free, it's legume based, and it can be made with organic ingredients. It kind of hits all the trend buttons.
But for those all chickpea-ed out, this Sweet Potato Hummus can revive your love of the Middle Eastern spread. Adding sweet potatoes to your hummus is a great way of adding nutrition. Sweet potatoes are a nutritional powerhouse packed with vitamins A and C, fiber, potassium, and blood sugar regulating carbohydrates. They also add a sweetness to this hummus that makes it both different and delicious.
This recipe uses chili powder to give the hummus a little kick. Between the sweetness of the potato and the kick of the chili powder, this hummus could pair nicely with vegetables like broccoli or cauliflower, or with pretzels or pita, or with a protein like turkey roll ups or ham cubes. If chili powder isn't your thing, you could substitute vanilla or cinnamon to transform this hummus into more of a dessert and pair it with cinnamon flavored pita chips.
This recipe is a great way of using up leftover baked sweet potatoes. Whenever baking sweet potatoes, add a few more to the oven to keep in the frig for a quick dinner side on another night, or for using in healthy recipes like this one. Sweet potatoes are a great choice for people who are trying to lose weight, like gastric sleeve, gastric bypass, and lap band patients. While they are full of carbohydrates, they are also a good source of fiber, and have actually been shown to help regulate blood sugar levels, meaning the carbohydrates to not cause significant rises in blood sugar levels like refined carbohydrates can. Also, the unique flavor of the sweet potato can often satisfy our desire for something sweet while still keeping it healthy, which can help aid in weight loss.
Sweet Potato Hummus
Adapted from http://itdoesnttastelikechicken.com/2016/02/18/sweet-potato-hummus/
Ingredients:
1 medium baked sweet potato (about 1 cup mashed)
1 cup chickpeas (cooked or canned)
1 clove garlic
1 tbsp lemon juice
2 tbsp olive oil
2 tbsp water
½ teaspoon salt
½ teaspoon chili powder
Black pepper, to taste if desired
Directions:
Preheat oven to 400 degrees
Rinse the sweet potato and pat dry. Prick with a fork to allow steam to escape. Place on a metal pan and bake for 55-60 minutes, turning halfway through.
When the sweet potato is cool enough to handle, scoop the flesh out and add to your food processor along with the remaining ingredients.
Blend until smooth, stopping to use a spatula to scrape down the sides when needed. If you prefer a thinner hummus, you can blend with a little more water until your desired consistency is reached.
This recipe is offered by Dr. Shillingford, M.D., P.A., a board certified general surgeon specializing in laparoscopic and obesity surgery. Dr. Shillingford performs gastric sleeve and gastric bypass surgery for obese patients who are looking for permanent solution to weight loss, and adjustable lap band surgery for those interesting in a reversible weight loss procedure. His patients come from all over South Florida, including Boca Raton, Delray Beach, Wellington, West Palm Beach, Miami, and Coral Springs. To see which type of bariatric surgery is right for you, please call Dr. Shillingford today at (561) 483-8840 to schedule your free Informational Meeting.