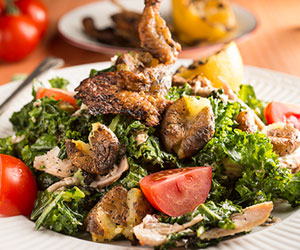 Don't want a hot dinner in the summer Florida heat? No problem, have a salad. But what about if you need to get adequate protein after your gastric sleeve, gastric bypass, or lap band surgery? No problem, have this salad. You can get protein, legumes, vegetables, fruits, nuts, whole grains, and healthy fats all in this one salad.
And it tastes good, too.
Using leftover baked or rotisserie chicken is perfect in this recipe. It's quick, it's already cold, and it adds lots of protein. Each ounce you add gives an additional 8 grams of protein to your post bariatric surgery diet. Protein is important to prevent muscle wasting following gastric sleeve, gastric bypass, and lap band surgery. Adding whole grains, like quinoa, to your diet can be a great source of vitamins and minerals and fiber. Fiber is important for bowel regularity, but also for weight loss since it helps you feel fuller for longer. The nuts and apples add a nice crunch, which is satisfying as well as flavorful.
This summertime suppertime salad may be a hit with your family as well!
Kale and Chicken Dinner Salad
4 cups fresh kale, chopped and destemmed
2 cups cooked chicken, cooled
1 cup cooked quinoa, cooled
8 oz can garbanzo beans, drained
¼ cup dried cranberries
½ cup dry roasted cashews
1 gala apple, cored and chopped
Dressing:
Juice from ½ lemon
1 tbsp apple cider vinegar
1 tbsp honey (local is preferable)
½ tsp each salt and pepper
Directions:
Place chopped kale in a large bowl.
In a separate bowl, whisk together all the ingredients for the dressing.
Don't skip this important step: pour dressing over the leaves and massage them in. Using your hands, get in there and rub the dressing all over the leaves, and squeeze the leaves in in your palm and between your fingers. This 3-5 minute process will bruise the leaves and make them more tender and sweeter.
Add the remaining ingredients to the salad and toss to evenly distribute.
Enjoy!
The above recipe is suggested by Dr. Shillingford, M.D., P.A., a Center of Excellence surgeon specializing in laparoscopic and weight loss surgery. Dr. Shillingford is proud to perform gastric sleeve, gastric bypass, and lap band surgeries in Northwest Medical Center's Center of Excellence for Bariatric Surgery, where patients are taken care of by staff specially trained in the field of bariatrics. This prestigious designation attracts patients from all over Florida, including Miami, Boca Raton, Orlando, Wellington, and Jacksonville. Dr. Shillingford's weight loss surgery patients often ask for recipes that easy to prepare, taste great, and are protein rich to fit into their post bariatric surgery diet.