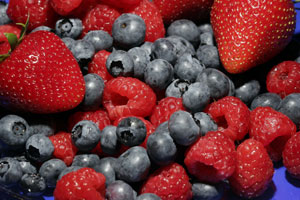 Summertime often brings a bounty of berries to grocery stores and farmer's markets. Strawberries, blueberries, raspberries, and blackberries are all at their peak of ripeness during the summer months. Not only are berries a sweet and delicious component of meals, snacks, or desserts, they are also packed with antioxidants. Strawberries, blueberries, and raspberries are among the top 5 fruits for total antioxidant capacity. Phytonutrients, such as anthocyanins, phenolic acids, and quercetin, as well as vitamin C give berries their reputation for being heart healthy, having potential anti-cancer benefits, boosting immune response, helping with oxidative stress, and anti-inflammatory properties. The natural fiber in berries may also help prevent a sharp rise in blood sugar normally associated with eating sweet foods.
While berries may be bountiful during the summer, you may not be able to eat them all before they spoil. If you want to be able to extend their lifespan, you can freeze the berries for future use. Rinse the berries and pat them dry with a cloth or paper towel. Remove any greens or stems. Place berries in single rows on a baking sheet lined with parchment paper. Place the baking sheet in the freezer, rearranging any berries which may have shifted to prevent them from touching each other and freezing together. Freeze until solid. Transfer into freezer safe bags or containers, squeezing out as much air as possible.
This method works well for strawberries, blueberries, blackberries, and raspberries, but may work for other fruits like bananas, mangoes, and pineapple as well. You can use the frozen fruit in smoothies or to make fruit sauces, or to toss into your bottle of water for added flavor.
Red, White, and Blue Smoothie½ cup nonfat milk
½ cup frozen blueberries
1 cup frozen strawberries
6 oz vanilla yogurt
½ tsp vanilla extract
Blend all ingredients in a food processor or blender. Enjoy!
Dr. Shillingford's South Florida patients are often looking to make healthier food choices, and berries are tops on the list! Dr. Shillingford is a general surgeon specializing in laparoscopic and obesity surgery. Many of his Boca Raton area patients have had or are interested in adjustable lap band, gastric sleeve, or gastric bypass surgeries.