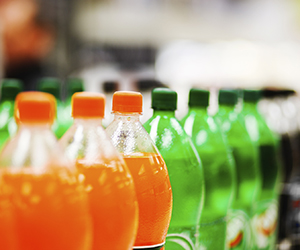 Sodas and sugar sweetened drinks have faced a lot of blame for contributing to the obesity epidemic, despite soda manufacturers insistence that overall diet quality is a larger contributor, as well as lack of exercise. But, another study has shown sugary drinks have a link to excess body fat.
Even if your BMI doesn't technically qualify you as obese, having excess abdominal fat can put you at risk. Most people have visceral body fat, which is stored in the abdominal cavity and pads internal organs including the liver, intestines, and pancreas. But having excess abdominal fat (meaning a waist of 40 inches or more for women, and 35 inches or more for men) can put you at risk for type 2 diabetes, heart disease, and even possibly Alzheimer's disease and some cancers.
Researchers at the National Heart, Lung, and Blood Institute delved into the beverage consumption of over 1,000 participants of the famous Framingham Heart Study and categorized them based on frequency of consumption of sugar sweetened beverages. Researchers found that those study participants who consumed sugar sweetened beverages daily had the highest amount of visceral fat; frequent drinkers had slightly less than daily drinkers. Occasional drinkers of sugary beverages and non drinkers had the lowest amount of visceral body fat.
Despite the numerous health concerns attributed to sugary beverages, their popularity remains high, with US consumers spending over $14 billion on sugary drinks in 2013. Almost half of Americans drink sugary drinks daily. By eliminating sugary drinks from our diets, we can reduce our risk of many serious health concerns as well as keep a few extra dollars in our wallets.
For gastric band, gastric bypass, and lap band patients, eliminating sugary drinks from your diet is one of the first and simplest things you can do to improve your health and promote weight loss. After your bariatric surgery, your calories should come from protein, fruits, vegetables, good fats, and whole grain carbohydrates. Water should be your primary source of hydration.
The above information is shared by Dr. Shillingford, M.D., P.A., a board certified surgeon specializing in advanced laparoscopic and obesity surgery in Boca Raton, Florida. Dr. Shillingford's gastric sleeve, gastric bypass, and lap band patients come from all over South Florida including Delray Beach, Wellington, Miami, Miami Beach, Fort Lauderdale, and as far north as Orlando and Jacksonville. Dr. Shillingford's patients are often seeking advice on their post bariatric surgery diets, and eliminating sugary beverages is a great first step.