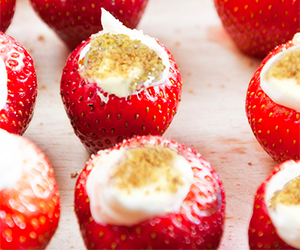 Mother's Day is around the corner on Sunday, May 8th. This year you can treat the mom in your life to a special dessert that will tantalize her taste buds without blowing all the hard work she's put into her diet and exercise. What's more is that these Strawberry Cheesecake Bites are so beautiful and yummy that everyone may gush over them, not just those watching their weight or calories.
The nice thing about this dessert is that it is portion controlled. This is important for gastric sleeve, gastric bypass, and lap band patients, but also for anyone looking to lose weight or reduce their sugar or calorie intake. When traditional cake is served, it's hard to be the one to ask for a specially cut small piece, and it's really hard to have a whole slice of cake in your hands and not eat it all. But, with these Strawberry Cheesecake Bites, the portion is already manageable: a single filled strawberry.
At only 40 calories per strawberry, this dessert is sure to please without any feelings of guilt.
Ingredients:
24 medium or large strawberries
8 ounces light cream cheese
⅓ cup powdered sugar
¼ tsp vanilla extract
A drop or two of almond extract (if you have it on hand)
½ cup chocolate graham crackers (or regular if you prefer)
Directions:
Wash and dry the strawberries.
Cut the tops off, then using a paring knife cut a cone shape into the strawberry top to make a well for the filling.
In a bowl, add cream cheese, powdered sugar, and vanilla extract (and almond extract, if using). Beat with a mixer until smooth and creamy. If it's not sweet enough, you can add a little more sugar a teaspoon at a time.
Spoon the cream cheese mixture into the corner of a large plastic resealable bag to make a disposable pastry bag. Cut a corner off of the bag.
Squeeze the filling into the well in each strawberry.
Crush the graham crackers in a separate bag and sprinkle on top of strawberries.
Store in the refrigerator until you are ready to serve.
This Mother's Day dessert idea is offered by Dr. Shillingford, M.D., P.A., a board certified surgeon specializing in advanced laparoscopic and obesity surgery. Dr. Shillingford's gastric sleeve, gastric bypass, and adjustable lap band patients come from all over south Florida, including Boca Raton, Delray Beach, Wellington, Port St. Lucie, West Palm Beach, Miami, and Fort Lauderdale. Whether the mom in your life had bariatric surgery, is trying to lose weight, or is already at her ideal body weight, these Strawberry Cheesecake Bites will make her feel special on Mother's Day.