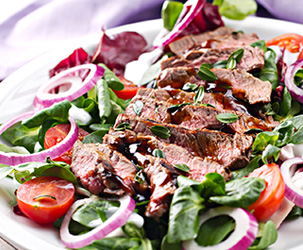 September is here, and soon we will be entering a time when we can start to feel fall creeping in. But, for now, it's still summer and that means it's the perfect time for grilling. If you planned this for dinner and rain complicates your plans, the steak can be equally delicious cooked inside in a pan.
This recipe for Steak Salad is quick enough to cook after work, but elegant enough to make for company. With a few basic ingredients, this salad is a classic. The addition of the steak to the salad completes the meal and provides the protein that is vital for gastric sleeve, gastric bypass, and lap band patients. The recipe calls for skirt steak, but flank steak also works nicely. Three ounces of skirt steak provide 22 grams of protein and under 200 calories.
It may take a while after gastric sleeve, gastric bypass, or lap band surgery for you to be able to tolerate steak. More tender meats, like chicken and fish, are usually tolerated better than beef in the first few months after bariatric surgery. Steak and other beef are not recommended until 6 months after bariatric surgery. As with all meals, be sure to take small bites and chew your food well before swallowing.
Steak Salad
Adapted from realsimplegood.com
Ingredients:
¾ pounds skirt or flank steak
3 heirloom or beefsteak tomatoes, sliced
4 cups arugula
½ red onion, cut into small slices
2 tbsp olive oil
2 tbsp balsamic vinegar
Salt and pepper, to taste
Directions:
Season steak with salt and pepper on both sides. Grill or cook in a pan until steak is at the desired doneness according to your preference.
While the steak is cooking, cut onions and tomatoes.
Once the steak is done cooking, place on a cutting board to rest. Once rested, slice into thin strips.
Add arugula, tomatoes, and onions to each plate. Top with steak, then drizzle oil and balsamic over the top.
If there are leftovers, package salad and steak separately, then toss together just before eating and drizzle with oil and balsamic. This could be a quick and easy lunch to bring to work, or a delicious leftover dinner the next night as well.
The above is offered by Dr. Shillingford, M.D., P.A., a board certified surgeon specializing in advanced laparoscopic and obesity surgery. Dr. Shillingford's lap band, gastric sleeve, and gastric bypass patients come from all over Florida, including Orlando, Boca Raton, Wellington, West Palm Beach, as well as New York, Texas, New Jersey, and Ohio for his expertise in affordable bariatric surgery. Dr. Shillingford's weight loss patients are often seeking different recipes that not only taste good, but are high in protein and low in carbohydrates like this Steak Salad.