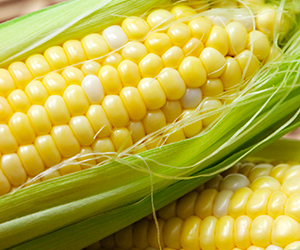 Cinco de Mayo is all about food, but it can be about good food. This recipe for Spicy Sweet Corn is the perfect side to cilantro chicken or sliced carne asada. Eating fresh corn is better than eating a corn taco shell, and this recipe for corn on the cob is definitely not your traditional barbeque style corn. It's sweet, creamy, smoky, and spicy. It's like a party in your mouth. A Cinco de Mayo party.
Corn is a starchy vegetable, so this would take the place of a carbohydrate for your meal. By cutting the ear of corn in half, this becomes a more manageable portion for gastric sleeve, gastric bypass, and lap band patients. Some people may prefer to cut the corn off the cob, which is fine if you need to. But by leaving the corn on the cob, it should take you longer to eat, which tends to give you time for your stomach to signal your brain that you are full. It also adds a whole different experience as your lips feel the heat of the chipotle and chili spices.
Ingredients:
3 ears of fresh corn
2 tbsp mayonnaise
¼ tsp garlic powder
½ tsp chipotle powder
½ cup cojita cheese, crumbled
3 tbsp fresh cilantro, finely chopped
1 lime (cut in 6 wedges)
Directions:
Cook the corn according to your preference. You can boil, bake, or grill it.
While the corn is cooking, prepare the coating mixture. In a small bowl, combine mayonnaise and garlic powder
Once it's cooked and dehusked and cool enough to touch, cut or break each ear in half. Brush with the garlic mayonnaise mixture.
Sprinkle each piece of corn with the crumbled cojita, chipotle powder, and chopped cilantro.
Squeeze fresh lime over the corn just before eating and enjoy.
This recipe is offered by Dr. Shillingford, M.D., P.A., a board certified bariatric surgeon specializing in laparoscopic and obesity surgery. Cinco de Mayo is a big deal for many of Dr. Shillingford's gastric sleeve, gastric bypass, and lap band patients as South Florida has many Mexican influences. Dr. Shillingford's South Florida practice sees patients from Boca Raton, Delray Beach, Wellington, West Palm Beach, Miami, and Fort Lauderdale. Although it's fun to celebrate food related holidays, bariatric surgery patients should always remember that moderation is key to celebrating.