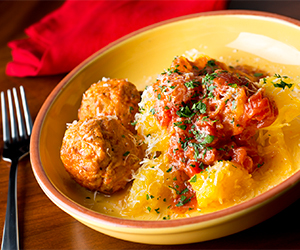 The name says it all- squash that looks and tastes like spaghetti. Well, it doesn't actually taste like spaghetti, but it's flavor is so mild that adding a sauce can make it taste like a traditional pasta dinner.
So, what's the benefit to eating spaghetti squash over spaghetti? The calories mostly. For gastric sleeve, gastric bypass, and gastric band patients, the reduction in calories can be hugely beneficial.
One cup of enriched spaghetti or other shaped pasta has 220 calories, 43 grams carbohydrates, 8 grams protein, and 2.5 grams of fiber. An equal amount of steamed spaghetti squash provides 30 calories, 7 grams carbohydrates, 1 gram protein, and 1.5 grams fiber. So, switching from spaghetti to spaghetti squash can save you nearly 200 calories per cup! As long as you include a protein with your spaghetti squash dinner, switching can really be a calorie saver for gastric sleeve, gastric bypass, and lap band patients. By reducing your calorie intake, you will lose weight faster. Weight loss without hunger is important for bariatric patients, as is eating foods rich in vitamins and minerals. Spaghetti squash is a wide variety of vitamins and minerals, as well as fiber, making it a good food to add into a post bariatric surgery diet.
Spaghetti squash can be easily cooked in the oven or microwave. First, cut the squash lengthwise down the middle. Use a spoon to scoop the seeds and strings out of the middle. Place the two halves face down in a casserole dish. To cook in the oven, add ½ cup water to the dish and bake at 375 degrees for 30-35 minutes. To cook in the microwave, place cut side down with water and cook for about 12 minutes. When the squash is cooked, the flesh should be tender and when you drag a fork lengthwise over the flesh, it should transform into spaghetti-like strings.
Spaghetti Squash with Meatballs
Ingredients:
Cooked spaghetti squash
Meatballs
Sauce
Parmesan Cheese
Salt and pepper
Directions:
Prepare meatballs of your preference (beef, turkey, chicken, veggie).
Add your choice of sauce and simmer.
Place prepared spaghetti squash on a dish, sprinkle with salt and pepper.
Top with meatballs and sauce.
Add parmesan cheese.
Enjoy!
If you like your experience with spaghetti squash, you can try it in different recipes. Cooked spaghetti squash works well in frittatas, with baked eggs, made into hash browns, as a substitute for rice noodles in chow mein or pad thai, made into a burrito bowl, or served with shrimp and peas. The mild flavor can blend well in a variety of dishes with a variety of proteins, including chicken, sausage, beans, cheese, and eggs. As spaghetti squash has less protein than spaghetti, making sure you eat it with a protein source at meal time is very important. Eating enough protein is crucial for gastric sleeve, gastric bypass, and lap band patients to ensure you can lose weight without compromising muscle integrity.
This recipe idea is offered by Dr. Shillingford, M.D., P.A., a board certified surgeon specializing in advanced laparoscopic and obesity surgery. Dr. Shillingford's gastric sleeve, gastric band, and gastric bypass patients come to his Boca Raton office from all over South Florida, including Delray Beach, West Palm Beach, Miami, Coral Springs, Parkland, and Fort Lauderdale. Many of Dr. Shillingford's weight loss surgery patients enjoy sharing recipes that are lower in carbohydrates, but still incorporate protein and vegetables. Spaghetti squash is the perfect fit to substitute for spaghetti and lower your calorie intake without compromising your protein and vegetable intake.