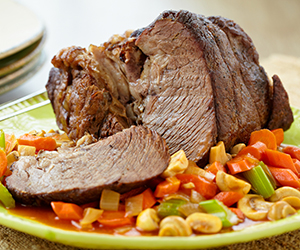 Slow cookers can come in really handy this time of year. With a half hour's worth of prep in the morning, you could have a fresh, healthy, home cooked meal by dinner time. Not only that, but depending on what you make, you could have enough leftovers to last for days. Who couldn't put all that extra time to good use this December?
This pot roast recipe is not your traditional pot roast with a gravy and potatoes, which is a good thing for bariatric patients. Instead, this recipe's got an apple sweetness and a vinegar tang. Gastric sleeve, gastric bypass, and lap band patients could easily pair it with a mixed green salad, a baked sweet potato, cauliflower rice, or baked butternut or acorn squash to keep their calorie and carbohydrates low to promote weight loss. The best part is that you'll have a home cooked meal with very little time and effort spent in the kitchen, though it will taste like you slaved away at it for hours.
Slow Cooker Apple Cider Pot Roast
Adapted from: http://www.framedcooks.com/
Ingredients
4 pounds chuck roast
1 cup beef stock
1 cup apple cider
¼ cup balsamic vinegar
1 teaspoon sea salt
½ teaspoon black pepper
2 cloves garlic, minced
Instructions
Place roast in a slow cooker.
Sprinkle with salt and pepper. Combine all remaining ingredients in a bowl and pour over the roast.
Cook on Low setting for 8 hours.
Use a spatula or tongs to remove the roast and slice.
Spoon a little broth on top of the slices and serve.
The above recipe is suggested by Dr. Shillingford, M.D., P.A., a Center of Excellence surgeon specializing in laparoscopic and robotically assisted bariatric surgery. Dr. Shillingford is proud to perform gastric sleeve, gastric bypass, and lap band surgeries in Northwest Medical Center's Center of Excellence for Bariatric Surgery, where patients are taken care of by staff specially trained in the field of bariatrics. This prestigious designation attracts patients from all over Florida, including Miami, Naples, Fort Myers, Tampa, Orlando, Wellington, and Jacksonville. Dr. Shillingford's weight loss surgery patients often ask for recipes that easy to prepare, taste great, and are protein rich to fit into their post bariatric surgery diet.