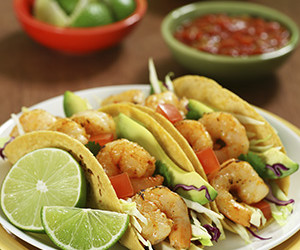 To feed our readers' appetite for taco recipes that can fit into gastric sleeve, gastric bypass, and lap band surgery diets, this week we offer Shrimp and Pineapple Tacos.
For those tired of traditional beef or chicken tacos, shrimp tacos can be a welcomed change. By grilling the shrimp and pineapple, the taco is infused with a smoky flavor unlike traditional tacos. But, it it's raining you can grill them inside or cook them up in a cast iron pan. The red cabbage, which replaces the lettuce in a traditional taco, gives it a nice crunch and adds vitamins like C, K, and B6 as well as antioxidants and anti inflammatory nutrients. The cojita adds a little creaminess along with its protein and calcium, and makes you forget about the traditional sour cream topping on your boring old beef taco. Speaking of boring tacos, the jalapeño definitely prevents sensory lethargy. The recipe call for two, but you can add or reduce the jalapeño to your taste. Let's not forget about the pineapple. Not only does it pair nicely with the shrimp and bold, spicy taco flavors, but by grilling it, the sweet flavors become enhanced and can even help satisfy those who seek a little sweetness into their evenings.
For those who have had weight loss surgery, eat a portion of this taco that fills you without going overboard. The portion size that is right for you depends on your body and your weight loss goals. A small tortilla may make it work better for you, or for some eating the filling with a fork minus the tortilla may be what works. Each bariatric surgery patient is different, so experiment to find what fits your new stomach the best.
Shrimp and Pineapple Tacos
Adapted from www.forkknifeswoon.com/grilled-shrimp-and-pineapple-tacos
Ingredients:
1 lb shrimp, peeled and de-veined
3 tbsp unsalted butter, melted
1 lime, juiced
2 tsp fresh garlic, minced
1 tsp ground cumin
1 tsp kosher salt
½ tsp freshly ground pepper
8 fresh pineapple rings, about ¼ in thick
2 jalapeño peppers, seeded and thinly sliced
1 cup red cabbage, shredded
1 cup cojita cheese
Fresh cilantro, to taste
Tortillas, whole grain if possible
Instructions:
In a bowl, mix together butter, lime juice, garlic, and spices until well combined. Add the shrimp and stir evenly to coat. Let marinate for 10-15 minutes.
Meanwhile, heat the grill or grill pan over medium-high heat. Add pineapple rings to the grill and cook until golden (about 3-4 minutes per side). Remove from the grill and set aside.
Add the shrimp and cook until opaque, about 2-3 minutes per side, depending on size (cook longer for larger shrimp).
Cut the grilled pineapple rings into chunks.
Make your taco by adding shrimp and pineapple to your tortilla (or not), top with cabbage, jalapeño, cojita crumbles, and cilantro.
The above recipe suggestion is offered by Dr. Shillingford, M.D., P.A., a board certified surgeon specializing in laparoscopic and obesity surgery. Dr. Shillingford's gastric sleeve, gastric bypass, and adjustable lap band patients come from all over South Florida, including Boca Raton, Fort Lauderdale, Miami, Delray Beach, Parkland, and as far away as Tampa, Orlando, and Jacksonville. Dr. Shillingford's bariatric weight loss patients are often seeking new recipes that taste good, are easy to prepare, and are high in protein and fresh vegetables.