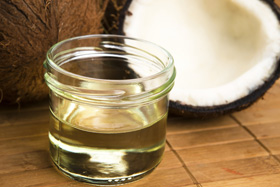 Living in Florida with coconut trees abound it is no wonder many of us these days are wondering why the craze on coconut oil. Coconut oil nourishes, protects and soothes and for those who are post weight loss surgery such as gastric bypass surgery in florida it will be normal to explore the uses of coconut oil. So here we go for our community of weight loss/gastric bypass surgery patients who are trying new lifestyle ideas.
Cooking with coconut oil can have many health benefits
Hair Helper: for a rich hair treatment combine 2 tbsp. of melted coconut oil and raw honey and one large egg yolk and whisk together; place in oil and rise with warm water
Face Freshner: mix coconut oil with castor oil and massage into skin; rinse thoroughly
Smooth Shave: rub on post shave for extra protection
Insect Repellant: mix 8 ounces of coconut oil and 50 drops of peppermint oil and apply to skin outside
Well Seasoned: to season a cast-iron pan, coat liberally with coconut oil. Put the pan in a cool oven and turn it to 300 degrees. Leave in oven for 30 minutes after it reaches set temperature. Let pan cool in oven after turning it off.
Odor Eliminator: Mix 1/4 cup baking soda with 1/4 cup corn starch. Add 6 tablespoons coconut oil and mix in with a fork. Store deodorant in a small glass jar.
The list can go on; coconut has so many creative uses. Weight Loss Surgery patients in our Florida Community always are wanting to learn creative lifestyle and health solutions not only for weight loss but for overall wellness.