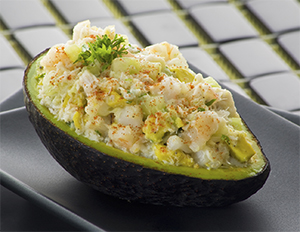 Many gastric sleeve, gastric bypass, and lap band patients report difficulty swallowing and digesting chicken and beef after their bariatric surgery. Since adequate protein intake is so important after weight loss surgery (with a goal of 60-80 grams of protein), not being able to eat proteins they usually tolerate can make eating and meeting their protein intake a challenge.
Seafood can be a good alternative choice for bariatric patients, even if they didn't previously eat or enjoy it. Tastes and preferences do change with surgery, making seafood a protein option sleeve gastrectomy, gastric bypass, and gastric band patients should try again.
This Seafood Stuffed Avocado recipe can be a good choice for bariatric patients who have tolerated whole foods and worked their way up to Stage 5 of Dr. Shillingford's bariatric post op diet as it contains eggs. Since avocados are high in calories but low in carbohydrates they can be eaten on a bariatric weight loss diet, but each person needs to be mindful of the amount they consume. After baking, the avocados can be cut into smaller portions to accommodate both stomach size and reduced caloric needs.
Seafood Stuffed Avocados
Adapted from Rants From My Crazy Kitchen
2 avocados, cut in half lengthwise and pitted
4 oz cooked shrimp, chopped
1 ½ oz cooked crab, flaked
½ cup finely shredded white cheddar cheese
¼ cup diced onion
1 egg, beaten
1 ½ teaspoons lemon juice
Seafood seasoning (to taste)
1 tbsp chopped parsley
Directions:
Preheat oven to 350 degrees.
In a bowl, combine everything except avocados.
Place avocado halves in an oven safe dish and spoon the seafood mixture into them.
Bake for 25 minutes or until heated through.
This recipe is offered by Dr. Shillingford, MD, PA, a board certified surgeon specializing in advanced laparoscopic and obesity surgery. Dr. Shillingford performs gastric sleeve, gastric bypass, and gastric band surgeries for obese and overweight patients with comorbidities, such as type 2 diabetes, hypertension, and sleep apnea. Dr. Shillingford takes great pride in helping his bariatric surgery patients improve not only their appearance, but also their health and well being. His weight loss surgery patients often come to his Boca Raton office from nearby Fort Lauderdale, Miami, Delray Beach, and Port Ste Lucie, as well as farther locales like Tampa, Orlando, and Jacksonville. Many patients are happy to travel the distance to have their surgery with Dr. Shillingford, who is highly regarded as a leader in bariatric surgery in South Florida, but is also known for his compassionate care and bedside manner. Call Dr. Shillingford's office today at (561) 483-8840 to make your appointment to change your life.