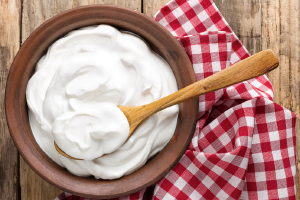 Most everyone is aware of sweetened greek yogurts. They come in flashy flavors like Cherry Pomegranate, Key Lime, and Coconut Dark Chocolate in addition to your classic Strawberry, Vanilla, and Blueberry. But, for gastric sleeve, gastric bypass, and lap band patients, these flavors often mean a lot of extra sugar that just doesn't fit into their post bariatric surgery diet. Too much sugar and too many overall calories will not aid in weight loss. Not to mention, but all that sugar isn't good when you have diabetes or prediabetes, as many weight loss surgery patients have.
So, what's a post op patient to do?
You've got two good options:
1. Eat your greek style yogurt plain. It's packed with protein, fits into the pureed stage of the post op diet nicely, and is often well tolerated by patients.
2. Eat your plain greek yogurt savory style. It's still packed with protein but by adding savory mix ins, you can turn it into a meal.
Plain and savory greek yogurt can take some getting used to if you've only ever eaten sweetened yogurt. But, it's pretty easy to get used to, especially if you make it delicious in its own way. You can experiment with your savory yogurt mix ins depending on the stage of the bariatric surgery post op diet you are on. We've got a few suggestions to get your creative juices flowing:
Mint and pistachio nuts
Tomatoes, diced cucumbers, olive oil, and dill
Roasted vegetables (onions, peppers, and zucchini make good choices)
Avocado, basil, and lemon juice
Cherry tomato halves and basil
Grated cucumber, chickpeas, mint, and walnuts
Pesto, pine nuts, and roasted tomato halves
Diced kalamata olives, diced cucumbers, and oregano
These suggestions are offered by Dr. Shillingford, MD, PA, a board certified surgeon specializing in advanced laparoscopic and obesity surgery. Although Dr. Shillingford's practice is located in Boca Raton, Florida, many of his weight loss surgery patients come from areas such as Miami, Fort Lauderdale, Tampa, Naples, Orlando, and Jacksonville. His gastric sleeve, gastric bypass, and lap band patients are often looking for high protein, low carbohydrate recipes that are not only easy to prepare, but taste good too. These savory greek yogurt mix in ideas can turn yogurt into a meal.