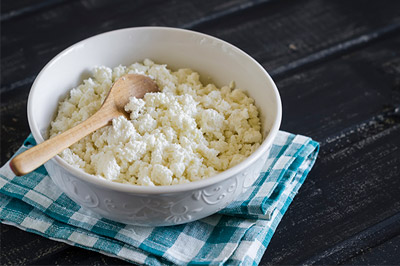 Gastric sleeve, gastric bypass, and lap band patients are always asking for suggestions for their pureed and soft stages following their weight loss surgery. While many bariatric patients can handle protein rich foods pureed in a food processor or blender, some people prefer to eat foods that resemble a more normal consistency but still qualify as pureed/soft. For some, refried beans were a staple in the pureed stage. For others, low sugar greek yogurt was their "go to" protein-rich pureed food.
Another pureed meal bariatric patients commonly ask about is known as the "Ricotta Bake." It uses ricotta cheese as it's protein-rich base so it is smooth and creamy, which are often qualities that are well tolerated by newly sleeved patients. People often comment that it reminds them of a noodleless baked ziti or lasagna since the flavors are mostly the same. Part skim ricotta cheese offers 3 grams of protein per 1 ounce, so it does have protein. In order to add extra protein to meet the daily protein goal after gastric sleeve, gastric bypass, or lap band surgery, an egg can be mixed in with the ricotta cheese. Unflavored protein powder can also be added for an additional protein boost.
You can find Ricotta Bake recipes online (including for a mini version), but we have included a link to the recipe created byShelly from The World According to Eggface. This blog includes other tips and hints that weight loss surgery patients can find helpful.
Shelly's Ricotta Bake
Created by The World According to Eggface
8 oz ricotta cheese
½ cup grated parmesan cheese
1 large egg, beaten
1 teaspoon Italian seasoning
Salt and pepper
½ cup marinara sauce
½ cup shredded mozzarella cheese
Mix ricotta cheese, parmesan, beaten egg, seasonings together and place in an oven-proof dish. Pour marinara on top and top with mozzarella cheese. Bake it in the oven at 450 for about 20-25 minutes (best) or nuke it til hot and bubbly.
Each bariatric surgeon is different in what they recommend to their bariatric patients on their post op diet. Follow your doctor's advice. Dr. Shillingford's bariatric patients should follow the diet sent to them or use the pdf found here. But every bariatric patient is different and you will need to also listen to your body and adjust your recipes accordingly. For example, if you can not tolerate melted cheese, you can leave off the mozzarella. Or if ricotta or tomato sauce is something you can't handle, skip this meal entirely and opt for a different puree/soft meal that you do tolerate.
Dr. Shillingford's gastric sleeve, gastric bypass, and lap band patients are encouraged to attend the monthly Nutrition Support Meetings, where you can ask fellow bariatric patients questions such as suggestions for foods during the pureed stage. Dr. Shillingford's Nutrition Support meetings are held on the second Monday of every month in his Boca Raton office and are hosted by bariatric dietitian Susan Peacock. For more information about the monthly Nutrition Support meetings, call Dr. Shillingford's office at (561) 483-8840 or email Amy at amy@drshillingford.com.