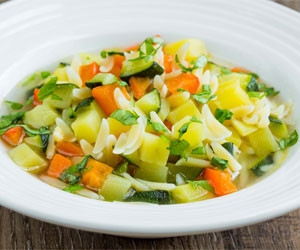 Rain has taken over South Florida of late. If the stormy weather has given you a chill, warm up with a Summertime Minestrone. Featuring fresh summer vegetables, beans, and some pasta, this soup can fill your belly without filling your waistline. The soup can be a perfect accompaniment to chicken or turkey, or even a sliced summer sausage. By adding in plenty of fresh vegetables and fat free broth or stock, you can keep this soup low in calories without compromising on flavor. The beans and pasta will add some protein, which is ideal for gastric sleeve and gastric bypass patients. To include extra protein, sprinkle fresh grated parmesan cheese on top.
Fresh Summertime Minestrone
1 Tbsp olive oil
1/2 onion, diced
1 leek, cleaned and sliced (white and light green parts only)
1 stalk celery, diced
½ red or orange bell pepper, diced
3 cloves garlic, minced
6 cups fat free chicken or vegetable stock
1 bay leaf
1/4 teaspoon each dried thyme and basil
1 teaspoon sea salt
2 medium to large zucchinis or yellow squash, diced
1 cup fresh green beans, trimmed and cut into 1-inch lengths
2 roma tomatoes, diced
1 cup fresh spinach, chopped
1 15 oz can cannellini beans, rinsed and drained
1 8 oz can garbanzo beans, rinsed and drained
1/2 cup dry ditalini or other small pasta
Grated Parmesan cheese (optional)
Directions:
Heat oil in a pot over medium heat. Add onion, leeks, celery, and pepper, and saute until they begin to soften, about 8-10 minutes. Add minced garlic and cook an additional minute.
Add stock, seasonings, beans, and remaining vegetables and bring to a boil by increasing the heat.
Once boiling, add pasta and cook until al dente. Note that ditalini will take longer than many other smaller pastas.
This soup is quick, easy, and filling. It would make a great lunch or dinner, especially in rainy weather. Don't let rain get you down, use this stormy weather to cook up some fresh, hot soup that can fit into your post bariatric surgery diet.
The above recipe is suggested by Dr. Shillingford, M.D., P.A., a Center of Excellence surgeon specializing in laparoscopic and weight loss surgery. Dr. Shillingford is proud to perform gastric sleeve, gastric bypass, and lap band surgeries in Northwest Medical Center's Center of Excellence for Bariatric Surgery, where patients are taken care of by staff specially trained in the field of bariatrics. This prestigious designation attracts patients from all over Florida, including Miami, Boca Raton, Orlando, Wellington, and Jacksonville. Dr. Shillingford's weight loss surgery patients often ask for recipes that easy to prepare, taste great, and are protein rich to fit into their post bariatric surgery diet.