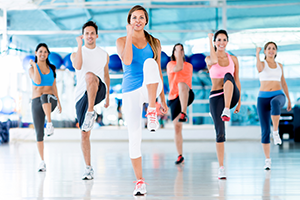 Many gastric sleeve, gastric bypass, and lap band patients were not used to routine exercise prior to their weight loss surgery. Incorporating exercise into your post bariatric surgery lifestyle is a must in order to achieve maximum weight loss. But that doesn't mean everyone likes it.
There's one sure fire way of increasing your enjoyment during your workout: listen to music.
According to a study published in the journal Psychology of Sport and Exercise music and listening to podcasts can both increase the brain's positive response to exercise compared to no auditory stimulation. While the podcasts did elicit a positive response by the brainwaves measured by the EEG, music boosted the enjoyment up by a whopping 28%! That's hard to argue with.
So, when you are gearing up for your workout, make your headphones a "must have" accessory. If you need your hands free (maybe to hold a free weight or resistance band) you can use a arm band designed to hold your phone which will keep it safe and make it easy to use with headphones.
Choose songs that make you happy, motivated, and want to move your body. Ask your friends, family, or colleagues what they listen to during workouts if you need suggestions.
Increasing your enjoyment during your workout can help lead to more consistent exercise. That may ultimately help you achieve your weight loss goals after obesity surgery, as long as you also follow your post op bariatric diet.
The above is offered by Dr. Shillingford, M.D., P.A., a Center of Excellence Surgeon specializing in gastric sleeve, gastric bypass, and gastric band surgery. Dr. Shillingford's reputation for excellent surgical skills and compassionate bedside manner attract patients from all over Florida, including Jacksonville, Boca Raton, Tampa, Miami, West Palm Beach, and Orlando. His bariatric weight loss patients receive top notch care during their hospital stay at Northwest Medical Center's Center for Excellence in Bariatric Surgery, where he serves as Medical Director, and during their follow up care in his Boca Raton office.