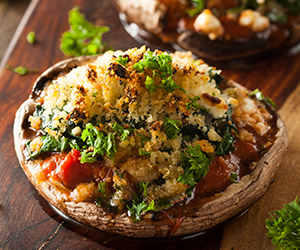 Pizza cravings are hard to ignore. The combination of the sweet tomato and the gooey cheese can trigger salivation with the sight, smell, or even thought of this heavenly creation. But for gastric sleeve, gastric band, and gastric bypass patients, pizza may be a no-no. An occasional slice of pizza may fit into many bariatric surgery patients' diets, but perhaps not in the frequency they may be used to. To help satisfy pizza cravings, and continue to follow your post bariatric surgery diet to lose weight, consider using portobello mushrooms to make your pizza at home.
By substituting the mushroom cap for crust, you quickly and easily reduce the carbohydrates in your pizza. Mushrooms have significantly less calories than pizza crust. One cup of mushrooms has only 16 calories. Packed into those 16 calories is a significant amount of the antioxidants copper and selenium, as well as B vitamins. So, not only do you lose refined carbohydrates, but you gain antioxidants. Mushrooms are well known for their role in supporting a healthy immune system, providing protection against inflammation, contributes to heart health, and provides anti-cancer benefits. And you can get all this in the tasty form of pizza.
This Portobello Pizza may not taste exactly like the typical pizza you grew up eating out a cardboard take out box, but the flavors are there and can help satisfy a craving in a more healthful way. Keep in mind that portion control is key to losing weight after weight loss surgery. In order to promote weight loss after gastric sleeve, gastric band, or gastric bypass surgery, you have to keep within your calorie limits.
Portobello Pizza
4 portobello mushroom caps
3 tablespoons extra virgin olive oil
2 plum tomatoes, sliced
2 cups fresh mozzarella, shredded
½ cup basil
A dash of oregano
Salt and pepper
Directions:
Preheat the oven to 375. Line a baking pan with foil.
Use foil to make 4 rings to act as a holder for each mushroom cap. This will help prevent the mushroom caps getting soggy as they bake.
Drizzle the mushroom caps with olive oil, and sprinkle with salt and pepper.
Sprinkle some shredded fresh mozzarella cheese on each mushroom cap. Top with tomato slices and basil.
Add remaining mozzarella and sprinkle with a dash of dried oregano.
Bake for 20-25 minutes, or until the mushrooms are soft and the cheese has melted.
If you like your cheese browned, you can broil but keep a close watch on them
This recipe idea is offered by Dr. Shillingford, M.D., P.A., a board certified surgeon specializing in advanced laparoscopic and obesity surgery. Dr. Shillingford's gastric sleeve, gastric band, and gastric bypass patients come to his Boca Raton office from all over South Florida, including Delray Beach, West Palm Beach, Miami, Coral Springs, Parkland, and Fort Lauderdale. Many of Dr. Shillingford's weight loss surgery patients enjoy getting recipes that are lower in carbohydrates, but still incorporate protein and vegetables.