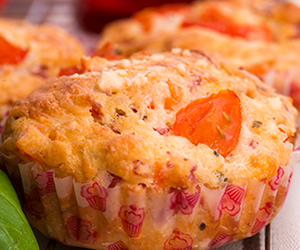 Pizza is a hard craving to ignore: the tomato, the cheese, the perfect blend of Italian flavors. But between the dough, oil, and cheese one slice of pizza packs nearly 300 calories (not including any toppings). For those trying to lose weight, like gastric sleeve, gastric bypass, and lap band patients, pizza is often on the naughty list. Until now.
By replacing the dough with fluffy eggs and using a blend of cheeses, Pizza Clouds can offer all the flavor of pizza with considerably less calories (one serving provides about 100 calories). That means surgical weight loss patients can satisfy their pizza cravings while sticking to their post bariatric surgery diets. The brilliance of these Pizza Clouds is that they are made using muffin cups, which naturally limits portion sizes to help bariatric patients keep portions small to accommodate their reduced stomach size.
Give them a try!
Pizza Clouds
Adapted from www.bariatriceating.com/2016/07/pizza-clouds/
Ingredients
8 eggs, separated
¼ cup cottage cheese
⅓ cup freshly grated Parmesan cheese
½ teaspoon Italian seasoning
½ teaspoon sea salt
¼ teaspoon freshly cracked black pepper
1 small zucchini, grated and squeezed dry using paper towels or a clean kitchen towel
½ cup diced lean pepperoni (NOT fatty turkey pepperoni)
1 Roma tomato, deseeded and diced
¼ teaspoon cream of tartar
Instructions
Preheat oven to 300 degrees.
Spray a muffin tin with nonstick cooking spray or line with muffin papers and set aside.
In a blender pulse the egg yolks and cottage cheese until smooth. Transfer to a large bowl. Stir in the grated parmesan, Italian seasoning, salt, pepper, zucchini, pepperoni and tomatoes.
In a separate medium bowl add the cream of tartar to the egg whites and beat on high speed until fluffy with stiff peaks.
Gently fold the egg whites into the 'pizza' yolk mixture until just combined.
Carefully spoon mixture into 12 muffin cups.
Bake 12 to 15 minutes, until puffed and golden.
Serve with warmed marinara sauce to complete the pizza flavor profile.
If you prefer veggies on your pizza, by all means, eliminate the pepperoni and substitute the veggies of your choice (onion, broccoli, peppers, or spinach make great options). Or, add in some ground beef or turkey cooked down with tomato sauce or even some diced ham.
The above suggestions are offered by Dr. Shillingford, M.D., P.A., Center of Excellence surgeon specializing in advanced laparoscopic and bariatric surgery. Dr. Shillingford's gastric sleeve, lap band, and gastric bypass patients come to his Boca Raton office from both South Florida and Northern Florida, as well as Georgia, Texas, Michigan, Ohio, New York, New Jersey, and Hawaii. His weight loss surgery patients are often looking to explore new and different foods and flavor combinations that are consistent with their low calorie, high protein post bariatric surgery diet. This reinvented pizza can be made with traditional pizza flavors or you can try new flavor combinations each time for variety.