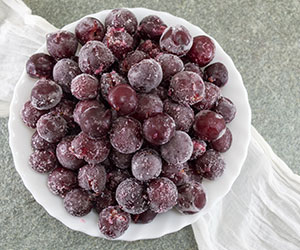 OK, maybe they aren't a phenomenon. But frozen grapes are tasty, refreshing, and can make a great treat when you need somethings sweet, especially for gastric sleeve, gastric bypass, or lap band patients.
Sweet treats and desserts (like cakes, cookies, and ice cream) are often a big no-no after weight loss surgery as they are usually high in calories, saturated fat, and carbohydrates and can prevent you from achieving weight loss. But, after dinner noshing on frozen grapes can easily fit into a post bariatric surgery diet. A half a cup of grapes has only about 30 calories. Compare that to a half cup of ice cream (137 calories) or sorbet (80 calories), and it's easy to see that grapes will provide significantly fewer calories.
Unlike ice cream, grapes may actually help improve your health. How so, you ask? Well, grapes contain a ton of other healthy things. They have antioxidants that have been associated with slowing or preventing several types of cancer. The anti inflammatory quercetin in grapes is associated with reduced risk of heart disease. Potassium, like that in grapes, has long been shown to be helpful in reducing blood pressure. The fiber in grapes is good for keeping your bowel habits regular. Can ice cream do all of that? We didn't think so.
Now, you may ask 'why freeze them?" Yes, grapes are good cold and even at room temperature. But frozen grapes take on a life of their own. Don't believe us? Try them yourself. Wash and dry your grapes (any color, but we definitely recommend they be seedless). Once they are dry, you'll need to freeze them in a way so that they don't touch in the freezer. This prevents them from getting stuck together and clumping up. You could place them on a plate or pan to keep them level in the freezer. You could also use an empty ice cube tray and put one or two in each (depending on the size of your grapes and the size of each ice cube compartment). Use whichever way is easiest for you. The grapes will need a few hours to freeze completely. Once frozen, you can put them into a freezer bag for easier storage in the freezer.
Remember portion control. Just because grapes are good for you doesn't mean you can eat a ton of them!
The above suggestion is offered by Dr. Shillingford, M.D., P.A., a board certified surgeon specializing in laparoscopic, robotic, and bariatric surgery. Dr. Shillingford performs gastric sleeve, gastric bypass, and gastric band surgery at one of South Florida's few hospitals designated as a Center of Excellence for Bariatric Surgery by the American Society for Bariatric Surgery. Some of his patients come from local areas, such as Miami and Fort Lauderdale, but his reputation and surgical skills also attract patients from as far away as Orlando, Jacksonville, Sarasota, Tampa, Fort Meyers, and Naples. His weight loss surgery patients are often seeking tips on how to eat healthier after bariatric surgery without feeling deprived, and frozen grapes can help make a post bariatric surgery diet feel phenomenal.