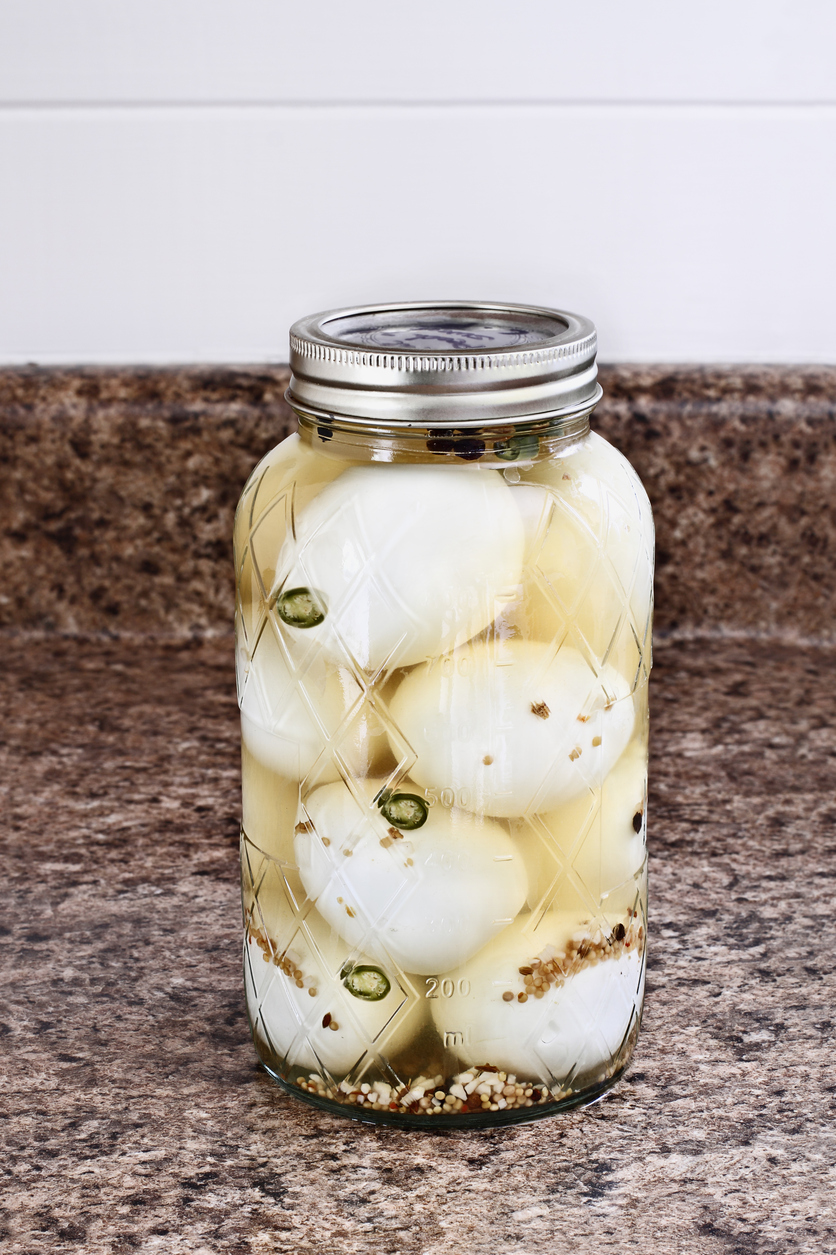 For bariatric patients, eating enough protein is a priority. To meet their daily protein goal (often 60-80g/day), gastric sleeve, gastric bypass, and lap band patients are encouraged to eat their proteins first at every meal.
For some, eating the same proteins can get monotonous. There seem to be only so many ways to eat eggs: scrambled, poached, hard boiled, or fried. While they are hard boiled, pickled eggs can help break the monotony of eating eggs as they provide a very different flavor profile from normal hard boiled eggs.
Pickled eggs can be easily made at home, stored in a refrigerator, and offer a tangy taste that many people enjoy. They won't have your traditional breakfast egg taste, but can work perfectly with lunch or as a snack. With 75 calories and 7 grams of high quality protein, eggs can make an inexpensive and easy way to meet your daily protein goals to promote weight loss.
Pickled Eggs
12 uncooked eggs
1 cup white vinegar
½ cup water
2 tbsp course salt
2 tbsp Pickling spices (without clove)
2 cloves garlic
1 onion, sliced in rings or half moons
5 black peppercorns
Directions:
Place the eggs in a large pot and cover with cold water. Bring to a boil, then remove from heat. Cover and let the eggs sit for 10-12 minutes. Err on the side of longer if the eggs are oversized.
Remove from hot water, let cool, and peel. Place eggs in a wide mouth glass jar. If they don't all fit in one you can use two.
In a saucepan, bring the remaining ingredients (with the exception of a few onion rings and the garlic) to a rolling boil. Pour over the eggs in the jar, completely covering them. Top with the remaining onion slices and add the garlic before sealing up the jar.
Cool to room temperature, then refrigerate for 3 days before serving.
The above recipe is offered by Dr. Shillingford, M.D., P.A., a board certified surgeon specializing in laparoscopic and obesity surgery. Dr. Shillingford's gastric sleeve, gastric bypass, and lap band patients come from all over South Florida for his services, including Boca Raton, Miami, Fort Lauderdale, West Palm Beach, Orlando, and Jacksonville. Dr. Shillingford's surgical weight loss patients are often seeking tips to increase the variety of their post bariatric surgery diet while still staying within the low calorie, high protein guidelines for weight loss after gastric sleeve, gastric bypass, or gastric band surgery.