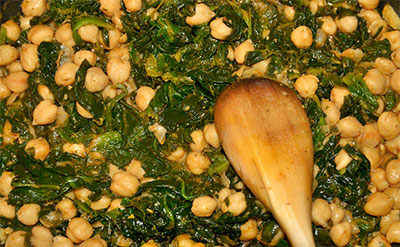 Who doesn't love a one pan meal? And how about a dish that works just as well for breakfast, lunch, or dinner? Now combine those and you get a one pan meal that is perfect for any meal.
This One Pan Chickpea Skillet not only uses a single pan, but it's also high in protein and low in carbohydrates making it ideal for gastric sleeve, gastric bypass, and lap band patients. Yes, the chickpeas do have carbohydrates (½ cup provides 178 calories, 7 g protein, 19 g carbohydrates, 6 g fiber, and 9 g fat according to the USDA), so that will have to be balanced with your daily allotment of carbohydrates (Dr. Shillingford recommends to keep below 50 g carbohydrates per day).
This recipe calls for a single egg, but that can be adjusted. Adding two eggs might make it a better choice for sharing the meal, or preparing another portion ahead of time for eating later. For gastric sleeve, gastric bypass, and lap band patients who have difficulty tolerating eggs after their weight loss surgery, another protein can easily be substituted. You can try replacing the egg with bacon chunks, sausage, pieces of rotisserie chicken, kielbasi, or another protein choice that you tolerate well. A reminder that bariatric patients should only eat foods and consistencies that are appropriate for the stage they are in after their gastric sleeve, gastric bypass, or lap band surgery. Dr. Shillingford's bariatric patients can use this handy chart to double-check the foods appropriate for their stage here.
One Pan Chickpea Skillet
Adapted from: https://thealmondeater.com/single-serve-egg-chickpea-breakfast/
Nonstick spray
1 egg
1 cup spinach (kale or collard greens would also work)
½ cup chickpeas (drained and rinsed)
¼ tsp seasoning mix (good choices are cajun seasoning or Trader Joe's Garlic Salt)
Salt and pepper to taste
Directions:
Heat a nonstick pan on medium-low and spray with nonstick cooking spray.
Add spinach, chickpeas, and seasoning mix and saute for about 3 minutes, stirring frequently.
Use a spatula to make a well in the center of the pan by moving the spinach and chickpeas. Crack the egg into the well.
Cook the egg to the doneness of your preference.
Sprinkle with salt and pepper to finish.
For more recipes and nutrition tips from Dr. Shillingford, "like" his Facebook page or check his blog regularly. Dr. Shillingford, MD, PA is a board-certified surgeon specializing in advanced laparoscopic and weight loss surgery. His gastric sleeve, gastric bypass, and lap band patients consistently provide positive reviews of Dr. Shillingford's knowledge, skill, patience, kindness, and reassuring bedside manner. If you are ready to change your life with gastric sleeve, gastric bypass, or lap band surgery, call Dr. Shillingford's office today at (561) 483-8840.