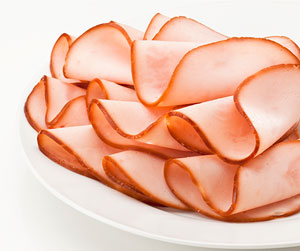 Gastric sleeve, gastric bypass, and lap band patients are always looking for high protein lunch ideas. If they are quick and easy to prepare that's even better. If they are also tasty, that's great. And if they are low calorie and help promote weight loss, then it's a win all around. We've got one idea and we think our weight loss surgery patients are going to like it.
If you are a fan of deli meat, this recipe is a tasty take on a meat roll up. Sure you could just eat a piece of deli meat rolled up, or even a roll up with cheese. And you can (once you've gotten to the correct stage of your diet). But, when you add in a few more ingredients, you can take your roll up to the next level.
What you need:
Deli meat (turkey, chicken, or ham work well).
Veggies cut into matchsticks (cucumber, peppers, zucchini, avocado, or radish are good choices).
Hummus.
Lay out a piece of deli meat, spread a dollop of hummus down the middle, and add a few veggie matchsticks. Roll the meat, hummus, and veggies up into a neat little roll. That's it!
This high protein roll up makes a easy breakfast, lunch, dinner, or snack for bariatric patients who are successfully tolerating at least Stage 6 of Dr. Shillingford's post bariatric surgery diet. By choosing vegetables that are crunchy but still low in carbohydrates, you can add a nice crunch while still keeping within your allowed carbohydrate range after gastric sleeve, gastric bypass, or lap band surgery. Due to the raw veggies, you shouldn't eat these until your new stomach pouch is ready. Those who are able to tolerate regular textured deli meat can also try adding a little hummus for a variety of flavor to your meals, and leave out the raw vegetables until you've reached the correct stage.
Dr. Shillingford, MD, PA, is a board certified surgeon specializing in advanced laparoscopic and weight loss surgery. His gastric sleeve, gastric bypass, and lap band patients receive exemplary care at Northwest Medical Center's Center of Excellence in Bariatric Surgery, where Dr. Shillingford serves as Medical Director. His Boca Raton office is conveniently located for neighboring towns like Coral Springs, Fort Lauderdale, and Miami, but also easily accessible from Wellington, Orlando, Tampa, and Naples. To schedule your free informational session to learn which surgical option is the best choice for you, call (561) 483-8840 today.