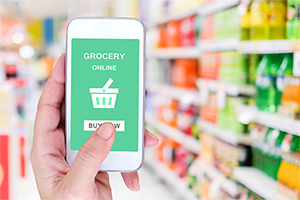 Aldi, a recent addition to the local grocery industry, has a new feature: grocery delivery at home. It's called Instacart and it is available in the Boca Raton and surrounding areas, which are frequently where Dr. Shillingford's gastric sleeve, gastric bypass, lap band, and laparoscopic surgery patients live.
Some people love shopping at Aldi, and some don't exactly enjoy the different experience. Aldi offers mostly store brand items and about 10% nationally recognized brands, which helps consumers keep their grocery budgets low. They also require you to "rent" your shopping cart for a quarter, which some people find burdensome, especially those who don't often have change on them. Don't despair, you get your quarter back when you return the cart, which is how they handle the "carts blowing around in the parking lot" problem. They also encourage customers to use their own bags and charge for those who need them. It's good for the environment, but also the savings get passed on to the customer.
All of this adds up to Aldi being a different shopping experience that some customers love and some just don't. But, their new grocery delivery service can change the game. Their Intsacart.com service lets you order your groceries online and have them delivered to your home. For weight loss surgery patients, as well as general surgery patients (hernia surgery, gallbladder surgery, appendectomy, and resections), this can have some advantages.
It's a time saver- No running to the grocery store after work. Instead, have your food delivered to your door by the time you get home.
It prevents you from buying things you shouldn't- Temptation can be strong at the grocery store. There can be smells wafting into your nose and sales calling your name that can make it hard to resist items you know you shouldn't be buying. Skipping the store experience can save you this test of willpower. Order just what you need for your healthy meals and your weight loss will thank you.
It's good for those still recovering from surgery- For bariatric surgery patients and general surgery patients, sometimes driving to the store and the act of grocery shopping just after your surgery is not easy. Having nutritious, healthy, and dietary stage appropriate food delivered to your door can ensure that you are being compliant to your post bariatric surgery diet and your post surgical guidelines for activities like driving and lifting.
Having appropriate food at home can be the push you need to make your meals- For many gastric sleeve, gastric bypass, and lap band patients, preparing their food at home is a new challenge. Often, they may have previously relied on eating out or ordering in. Being able to order your groceries and have them delivered may be a nice compromise that can encourage you to prepare healthy, high protein, low calories meals at home and maximize your weight loss.
Ordering online can help you ensure you get everything you need- If you are at home when you place your order, you can check your refrigerator and pantry for what ingredients you need. This can save you from having a disaster when you go to make baked chicken thighs and you forgot to pick up chicken thighs.
This life hack is offered by Dr. Shillingford, MD, PA, a Center of Excellence Surgeon specializing in gastric sleeve, gastric bypass, and gastric band surgery as well as advanced laparoscopic surgical procedures. Dr. Shillingford's reputation for excellent surgical skills and comfortable bedside manner attract patients from all over Florida, including Miami, Tampa, West Palm Beach, Orlando, and Jacksonville. His bariatric weight loss patients receive top notch care during their hospital stay at Northwest Medical Center's Center for Excellence in Bariatric Surgery, where he serves as Medical Director, and during their follow up care in his Boca Raton office.