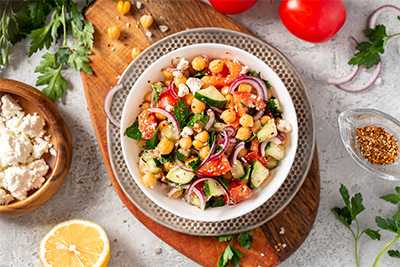 This yummy dish is a different kind of salad since there's no lettuce. The earthy heartiness of the protein-packed chickpeas, combined with the crunch of red onions, the sweetness of the tomatoes and cucumbers, and the creaminess of the feta cheese makes for an explosion of flavors and textures in your mouth. PLease note that this recipe idea is not for all bariatric surgery patients, please wait until you have appropriately advanced in Dr. Shillingford's post-op diet.
Best of all it takes only 15 minutes to prepare. Dice a few vegetables, dump ingredients in a bowl, and stir. No cooking involved! In almost no time you'll have a quick and easy weeknight dinner, or lunch, or snack.
Could it get better? How about- it's good for you! Weight loss surgery patients should especially take note of this recipe. It's got protein from the chickpeas and the cheese. Protein is important for gastric sleeve, gastric bypass, and lap band patients in order to prevent muscle breakdown while the low calorie diet promotes weight loss. The fresh vegetables and the chickpeas provide fiber, which helps keep you fuller for longer and helps promote weight loss. The fiber also helps promote bowel regularity. The vegetables also provide tons of vitamins and minerals to keep you healthy. Tomatoes are high in vitamins A and C, and cucumbers provide vitamin K. Even the red onion is packed with health promoting antioxidants and polyphenols.
Meditteranean Chickpea Salad (adapted from Jessica in the Kitchen)
1 ½ cups canned chickpeas, drained and rinsed
1 cup cubed grape tomatoes, (seeds removed, if desired)
½ medium red onion, finely diced
1 cup English cucumber, diced (seeds removed, if desired)
¼ cup feta cheese, crumbled
½ cup fresh parsley, chopped (optional)
For the dressing:
¼ cup extra virgin olive oil
1 tbsp balsamic vinegar
2 tsp fresh lemon juice (roll the lemon before juicing)
1 tsp dijon or whole grain mustard
¼ tsp salt, or more to taste
¼ freshly ground pepper
In a large mixing bowl, combine the ingredients for the dressing. Whisk to combine. Be careful not to squeeze in a lemon seed.
Add the drained chickpeas, diced grape tomatoes, red onion, cucumber, feta cheese, and chopped parsley.
Use a big spoon to combine. Alternately, if using a covered mixing bowl, cover and shake to combine.
This salad tastes even better after the flavors have had the chance to combine, so if you can wait about 30 minutes before eating. It's even better the next day after chilling in the fridge.
The above idea recipe is offered by Dr. Shillingford, MD, PA. Dr. Shillingford performs gastric sleeve, gastric bypass, and lap band surgeries at Northwest Medical Center's Center of Excellence in Bariatric Surgery. Over the course of his career, Dr. Shillingford has performed over 4,000 bariatric procedures. Most of his weight loss surgery patients come from Florida cities, including Boca Raton, Miami, Fort Lauderdale, Orlando, Jacksonville, and Naples, as well as other states including Michigan, Texas, New York, and New Jersey.