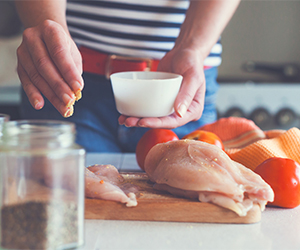 If you love the flavors of the Mediterranean, this recipe is for you. It's got the creaminess of the Greek yogurt, the protein in the chicken, the crunch of the cucumber, and chickpeas because, well, why not.
This recipe is ideal for gastric sleeve, gastric bypass, and lap band patients for so many reasons. First, it doesn't have added sugars. Just simple, whole ingredients. Second, it's rich in protein. Between the Greek yogurt, the chicken, and the chickpeas, you'll be flying toward your protein goal. Third, it's super quick to prepare, which means you have the time to cook it after getting home from work but before exhaustion sets in. Fourth, it's customizable. That means, you can change it up according to how you like it. Leave out the tomatoes, or add in pistachios, it's your call. And fifth, you can share it with people who aren't trying to lose weight after bariatric surgery. It tastes good on it's own, but to appeal to kids you could serve it in a pita pocket.
Mediterranean Chicken
½ tsp each- cumin, turmeric, garlic powder, paprika
2 tsp olive oil
1 ½ pounds boneless, skinless chicken breast
1 large cucumber, diced
1 cup cherry or grape tomatoes, halved
1 cup canned chickpeas, rinsed
¼ cup crumbled feta cheese
1 cup chopped romaine lettuce
Dressing:
5 oz plain Greek yogurt
2 tbsp olive oil
½ tsp dried oregano
Pinch of salt
1. Combine spices with oil. Rub spices into chicken. Bake or grill the chicken until cooked thoroughly. When cool, dice chicken into bite sized pieces.
2. While chicken is cooking, make the dressing by combining yogurt, salt, olive oil, and oregano in a bowl and whisking until mixed.
3. Add lettuce, cucumbers, tomatoes, and chickpeas in a separate bowl. Top with diced chicken, feta, and yogurt dressing.
Dr. Shillingford, MD, PA, encourages his gastric sleeve, gastric bypass, and lap band patients to choose healthy sources of high quality proteins, and chicken, yogurt, and legumes can be great choices. Dr. Shillingford's bariatric patients come from all over Florida, including Boca Raton, Miami, Orlando, Tampa, and Jacksonville, for his reputation as a Center of Excellence Surgeon and his compassionate bedside manner. To schedule a surgical evaluation with Dr. Shillingford or to attend one of his free informational sessions on sleeve gastrectomy, gastric bypass, and lap band surgeries, please call his Boca Raton office at (561) 483-8840.