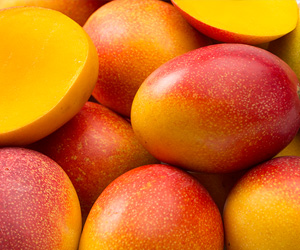 If you live in South Florida, chances are good that you either have or know someone who has a mango tree. Summer is when most mangos are ripe, and mango season is upon us.
Mango trees can produce over a hundred mangos each year. After the first dozen, you may grow a little tired of plain mango and be seeking interesting ways to use them. While mangos themselves are sweet and sugary, many mango recipes are even sweeter. Mango ice cream, tropical mango rice, mango coladas,mango jelly, mango cheesecake… the list of sweet, delicious mango recipes goes on and on.
But for gastric sleeve, gastric bypass, and adjustable lap band patients, sweeter is not better. Sweet recipes usually mean more sugar, more simple carbohydrates, and more calories, which does not help with post bariatric surgery weight loss. We've brainstormed a list of lower sugar mango recipes that would be better for bariatric patients than many traditional mango recipes.
Mango salsa
Diced as a topping or garnish for salmon
Mango guacamole
Mixed with yogurt and frozen into popsicles
Sauteed with shrimp or prawns
Grilled Thai Mango Chicken
Spicy Mango Pepper Jam
In a protein rich smoothie (not for lap band patients)
Cooked in with pulled pork
Diced and added to black beans
The above suggestions are offered by Dr. Shillingford, M.D., P.A., a board certified surgeon specializing in laparoscopic and obesity surgery. Dr. Shillingford's bariatric surgery practice is located in South Florida, and many of his gastric sleeve, gastric bypass, and adjustable lap band patients come from the surrounding areas, such as Miami, Hollywood, Wellington, West Palm Beach, Delray Beach, Orlando, and Tampa. Many of his patients are interested in lower carbohydrate recipes that taste good and contribute to their weight loss and health goals.