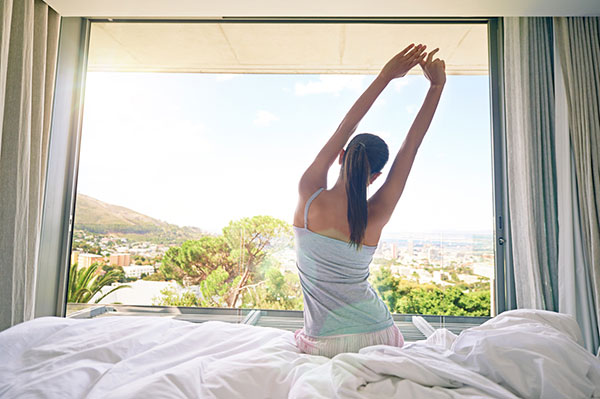 We aren't all morning people, but we can learn to make the most of our mornings.
To start off your day right, first make sure you've had enough sleep. Eight hours is the gold standard for good reason. Adequate sleep is important for our health and longevity, a good immune system, controlling our appetite, protecting and strengthening our memory and judgement, and helping to control our stress levels. Inadequate sleep can wreak havoc on the body. It's better to start your day after getting a good night's sleep.
These five tips can also help you get a jump on your day:
Be active: Stretch, do some yoga or pilates, go for a walk, hit the gym, or do a fitness video at home, but do something. Morning workouts are a good way to improve your mood and make you feel like you can tackle the day!

Pack in the protein: Breakfast is the perfect time to chip away at your daily protein goal, especially for gastric sleeve, gastric bypass, and lap band patients. Eggs, turkey sausage, Canadian bacon, and plain yogurt are good examples of protein rich choices. If you can, add in fiber, such as spinach or avocado, and you'll be feeling fuller for longer.

Give thanks: Spend a few minutes (could be in the shower, while you brush your teeth, or even sitting at a red light) reviewing all that you have to be thankful for. Starting your day thinking about the positives can set a good tone you can continue throughout your day.

Pack a good lunch: This can be especially beneficial for weight loss surgery patients. It's hard to find fast food places or restaurants that cater to a bariatric weight loss diet, so if you are going to be out for the day, do yourself a favor and pack a good lunch. Follow the guidelines for the stage you are at following gastric sleeve, gastric bypass, or gastric band surgery. Include a snack, too, if you'll be out for an extended period of time.

Drink your water: Many bariatric weight loss patients find it hard to fit in their 64 ounces of water. Get a head start on this by drinking some early in the day. Just make sure you follow the guideline of separating your food and fluid.

The above are suggestions offered by Dr. Shillingford, MD, PA, a board certified surgeon specializing in advanced laparoscopic and bariatric surgery. His gastric sleeve, gastric bypass, and lap band patients continue to be an inspiring group of people from all over Florida, including Boca Raton, Miami, Orlando, Naples, Jacksonville, and West Palm Beach. Mornings can be a good time to set the mood for the day. To set a positive and productive mood that can last the whole day, follow these tips along with your own.