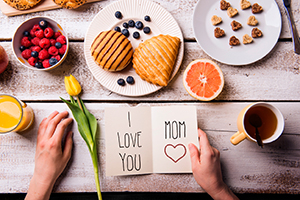 Mother's Day can be a time for feasting on high calorie sweets and fattening foods and showering mom with guilty pleasures. But it doesn't have to be. Treating the mom in your life to healthy foods and wellness promoting gifts can be the ultimate way to show her how much you care for her.
The staff at Dr. Shillingford's Boca Raton office for lap band, gastric sleeve, and gastric bypass weight loss surgeries have compiled a list of ideas for healthier Mother's Day fare and gifts to keep mom and the whole family their healthiest. We hope to inspire your creativity to make this a great Mother's Day for your family.
Mother's Day food ideas:
Quiche featuring fresh vegetables (spinach, onions, peppers, tomatoes, asparagus, mushrooms, zucchini, or kale)
Grilled or baked salmon with mustard and roasted asparagus
Deviled eggs mixed with mashed avocado
Baked or grilled chicken with lemon and fresh herbs
Chopped vegetable salad with oil and vinegar dressing and grilled chicken
Fresh fruit salad (watermelon, cantaloupe, blueberries, kiwi, strawberries, mango, pineapple, blackberries, grapes)
Dark chocolate covered strawberries for dessert
Mother's Day gifts:
Pedometer or activity monitoring watch
Personal training sessions
Classes for yoga, pilates, tai chi, golf, swimming, or dancing (even online classes)
Take her out for a new pair of sneakers
Beautiful salad bowl
Kitchen gadgets like a julienne peeler, mandolin, vegetable grill basket, or water infuser and a coordinating cookbook full of healthy food ideas
Offer to accompany or drive her on any doctor's appointments she has (mammogram, annual physical, therapist, weight loss surgeon, etc)
Massage gift certificate
Gift certificate to her favorite athletic clothing store
Kid free night out
Family portrait session
Paddleboard and/or SUP lessons
Have a happy and healthy Mother's Day!