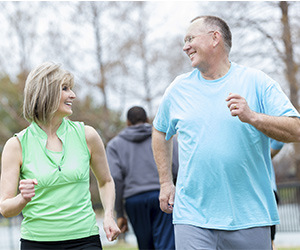 In the three year period following bariatric surgery, the majority of patients saw a reduction in pain and improvement in walking ability according to a new study published in the Journal of the American Medical Association. The multi-site clinical study looked at over 2,000 patients who underwent weight loss surgery at 10 hospitals across the country. While many studies have focused on the significant improvements in weight or 80-90% reductions in rates of diabetes following bariatric surgery, this NIH funded study looked at the functional status of those with joint pain after they underwent bariatric surgery.
Of the 2,221 bariatric patients who participated in the study, 50-70% reported important clinical improvements in body pain, physical functioning, and walking speed in the three year follow up period after their bariatric surgery. Of those with symptoms of osteoarthritis prior to surgery, nearly 75% reported improvements in hip and knee pain and function following weight loss surgery. In addition, over 50% of patients who reported a mobility deficit prior to surgery no longer reported a mobility deficit in the three years after surgery. While 54.1% of patients reported their leg or back pain did not interfere with their work prior to surgery, that figure rose to 76.3% after weight loss surgery, indicating that bariatric surgery had a positive impact on performance at work. Another improvement was seen in the average physical function score of the participants. This score is based on people's ability to perform functional tasks, such as climb stairs, carry groceries, walk various distances, bathe, dress, bend, kneel, and perform moderate and vigorous activities. The average physical function score of the post bariatric surgery patients improved so much that it became comparable to the average score of the general population.
The study found that after three years, the bariatric surgery patients weighed on average 28% less than they did before surgery. This translates in a 56 pound weight loss for a 200 pound person, meaning on average someone who weighed 200 pounds prior to bariatric surgery weighed 144 pounds within three years after bariatric surgery. Combine that average weight loss with the improvements in physical functioning and reduction in joint pain, and the positive effects of bariatric surgery are clear.
For those who are obese and experiencing joint pain, bariatric surgery may lead to significant improvements in both weight and pain. If you are experiencing joint pain or disability and are overweight or obese, schedule a free informational session with Dr. Shillingford, M.D., P.A. to learn more about if gastric sleeve, gastric bypass, or adjustable lap band surgery is right for you. His bariatric patients come from all over South Florida, including Delray Beach, Wellington, West Palm Beach, Parkland, Miami, and the Fort Lauderdale area, and as far away as Orlando, Jacksonville, and New York. Dr. Shillingford's informational sessions are held every Wednesday night at his Boca Raton office. Call Dr. Shillingford's office today at (561) 483-8840 to reserve your spot and begin your journey of weight loss and freedom from joint pain.