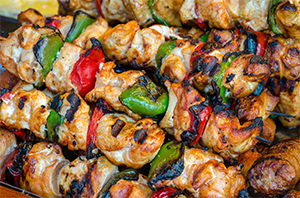 Memorial Day is upon us. While it serves as a day to remember Americans who died in active military service for our country, it is often celebrated with family gatherings and BBQs. Traditional hamburgers and potato salad may be tempting at a BBQ, but aren't exactly weight loss surgery friendly. For gastric sleeve, gastric bypass, and lap band patients, the priority at mealtime should be protein, then vegetables, then fruits. The traditional hamburger bun and potato and mayonnaise salad doesn't exactly fit into the post bariatric surgery diet. Not without complications and undermining weight loss efforts.
We've gathered some alternate BBQ menu options that are more in line with the high protein, high fiber, low carbohydrate diet that gastric sleeve, gastric bypass, and gastric band patients follow when they are up to the full meal stage after their weight loss surgery. Consider these lower carbohydrate options on this Memorial Day:
Shrimp and Garlic Kabobs
Chicken and Pepper Kabobs
Cilantro Marinated Chicken Thighs
Mini Meatballs
Bunless Sliders topped with a cherry tomato
Roasted Cabbage Wedges
Lime Marinated Salmon
Fresh vegetables grilled in a foil pouch or vegetable basket
Grilled Peaches or Pineapple for dessert
Whatever you decide to eat this Memorial Day, remember these rules: chew your food well; eat slowly; don't drink your calories; and drink your water separate from your food. Following these guidelines can save you from feeling guilty (not to mention unwell or nauseous) and help you focus your energy on your post bariatric surgery weight loss.
The above suggestions are offered by Dr. Shillingford, MD, PA, a board certified surgeon specializing in advanced laparoscopic, robotic, and obesity surgery. Dr. Shillingford's gastric sleeve, gastric bypass, and lap band patients come from all over South Florida, including Boca Raton, Parkland, Miami, and Fort Lauderdale, as well as from farther locales like Orlando, Jacksonville, Naples, and Tampa. Dr. Shillingford encourages his all his patients to celebrate Memorial Day responsibly.