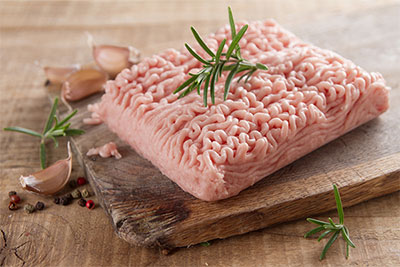 Southwestern flavors are often a big hit. Turkey is a great choice for a southwestern inspired meal as the meat is often bland on its own and the spices add a nice flavor. While tacos are usually eaten with a corn or flour shell or tortilla, those add carbohydrates. Gastric sleeve, gastric bypass, and lap band patients can get the taco flavors they love with fewer carbs by making a skillet meal instead.
By adding turkey meat, a few low carbohydrate vegetables, spices, and cheese to a skillet, you can make a delicious high protein, low carbohydrate meal in one pan. Ground turkey is often well-tolerated meat after bariatric surgery. It's also a good source of protein. 3 oz of cooked ground turkey provides 190 calories, 19 g protein, 13 g fat, and 0 g carbs. The goal for most gastric sleeve, gastric bypass, and lap band patients is 60-80 grams of protein per day. One 3 oz portion of ground turkey can provide nearly a third of your daily protein goal. Of course, other ground meats could be substituted based on preferences or based on which meat your new stomach tolerates the best after weight loss surgery.
Low Carb Southwestern Turkey Skillet
1 lb ground turkey
¼ yellow onion, diced
1 small bell pepper, deseeded and diced
1 packet taco seasoning, mild or original
1 cup shredded cheddar cheese
Cooking spray
Suggested toppings: sliced black olives, diced avocado, diced tomatoes, minced onion, black beans, fat-free sour cream
Directions:
Warm a skillet over low-medium heat. Coat with cooking spray.
Add onions and peppers, Saute for a minute.
Add ground turkey, breaking up into small chunks and cook until it's fully cooked through. Drain liquid and fat.
Add a little water (about ¼-½ cup) to pan along with spices.
Let it simmer and mix spices thoroughly to coat all chunks of turkey.
Turn off burner and top with cheese. Let sit until cheese is melted.
Scoop a small serving onto your plate and add your chosen toppings.
Your serving size will depend on how far along you are after your bariatric surgery, your weight loss goals, and your appetite. As this recipe uses vegetables cooked until soft, it could be appropriate for gastric sleeve, gastric bypass, and lap band patients who have advanced to Dr. Shillingford's Stage 5 in his post-op bariatric diet. Be mindful of your serving size and stop when you begin to feel full. Although this recipe is high in protein and lower in carbohydrates, bariatric patients still need to monitor their caloric intake and stay under their total calories for the day to maximize their weight loss after bariatric surgery.
This recipe suggestion is offered by Dr. Shillingford, MD, PA, a board-certified surgeon specializing in advanced laparoscopic surgery, including gastric sleeve, gastric bypass, and gastric band surgery. His weight loss surgery patients often come from nearby locales such as Miami, Fort Lauderdale, Coral Springs, West Palm Beach, and Boca Raton. For gastric sleeve, gastric bypass, and lap band patients who travel to Dr. Shillingford for their bariatric surgery, please be on the lookout for news of an office opening in Vero Beach on the Treasure Coast of Florida soon. For more information, call Dr. Shillingford's office at (561) 483-8840.