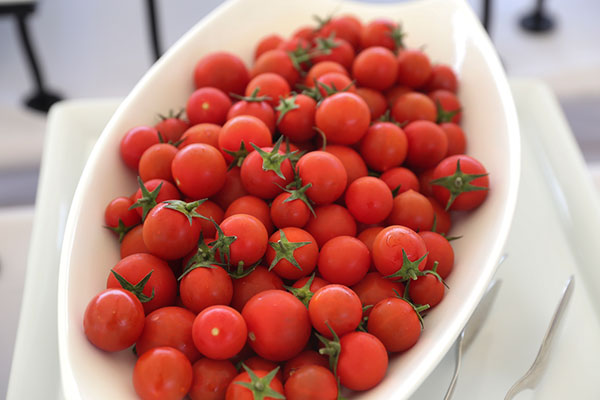 Are you looking for a delicious side dish? Even if you aren't trying to lose weight this one is yum. But for those on a bariatric weight loss diet, like gastric sleeve, gastric bypass, and lap band patients, this vegetable based side dish is not only delicious but is also low carbohydrate vegetable.
For surgical weight loss patients who have progressed to eating whole foods including vegetables, this recipe can be a go to side dish. It has very few ingredients. It cooks up quickly. It also pairs well with a wide variety of proteins, including fish, chicken, turkey, pork, and beef. The baking brings out the sweetness of the tomatoes, and the tang of the balsamic vinegar makes the dish a true winner.
Roasted Balsamic Cherry Tomatoes
1 lb cherry tomatoes
1 tsp olive oil
1 tsp balsamic vinegar
Salt and pepper
Fresh basil leaves
Directions:
Whisk oil and vinegar in a bowl. Add in washed cherry tomatoes to coat.
Spread tomatoes on a rimmed sheet pan.
Sprinkle generously with salt, add pepper to taste.
Roast in a preheated 375 degree oven for 20 to 25 minutes, or until tomatoes are tender.
Top with fresh basil ribbons.
This low carb side dish is quick, easy, and very versatile. The leftovers can even work well cold, so they can be packed for an on the go lunch paired with a protein.
This recipe is offered by Dr. Shillingford, MD, PA, a board certified surgeon specializing in advanced laparoscopic surgery, robotic surgery, and bariatric surgery. His gastric sleeve, gastric bypass, and gastric band patients are often looking for low carbohydrate recipes to add to their post bariatric surgery diet. Cherry tomatoes can often be found in abundance in the Boca Raton/Fort Lauderdale/Miami/Coral Springs/Parkland area, where many of Dr. Shillingford's patients live.