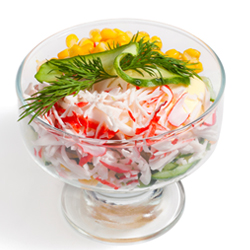 August starts lobster season in Florida. For many seafood lovers, this time of year is quintessential summer. As such, we have combined lobster with another iconic summer staple- fresh corn- for a healthier, lower calorie lobster salad dinner that will delight your senses.
Ingredients
1 ½ cups steamed, cooled, and roughly chopped lobster meat
2 ears of fresh corn on the cob
1 cup grape or cherry tomatoes, cut in half
1 shallot, diced
juice from 1 lemon
¼ tsp lemon zest
4 tsp extra virgin olive oil
1 tbsp fresh parsley
salt and pepper to taste
8 large leaves of lettuce, like Boston or Bibb
¼ cup diced avocado
Boil the corn for 4-5 minutes. Once cool, use a knife to cut kernels from the cob. Add lemon juice and oil to a bowl, whisk together. Add corn, lobster chunks, diced shallot, halved tomatoes, lemon zest, parsley, salt and pepper to the bowl and toss. Place mixture of bed of lettuce. Garnish with diced avocado. Serves 2 for dinner, or 4 as an appetizer.
The above recipe suggestion is offered by Dr. Shillingford, a board certified general surgeon specializing in advanced laparoscopic and obesity surgery. His Boca Raton office serves patients from all over the state of Florida, from Miami to West Palm Beach to Tampa to Jacksonville, seeking weight loss solutions including adjustable lap band, gastric bypass, and sleeve gastrectomy surgeries.