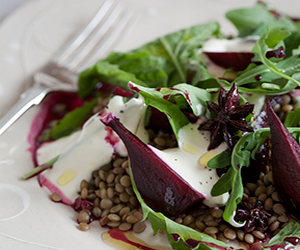 Summer is on its way in South Florida and it's heating up! When the weather gets warm, many people enjoy a no-cook dinner that's quick and easy to whip up after work. The trick is to find a recipe that's simple, has only a handful of common ingredients, and actually tastes good. Enter Lentil and Beet Salad: a protein, fiber, and antioxidant filled dinner that tastes good and is good for you.
This recipe uses canned lentils and canned beets, which is how it's possible to put it together so quickly. But, for those interested in using fresh ingredients, you can certainly boil or roast fresh beets and cook dried lentils to use as the foundation for this salad. The rest of the ingredients are common enough that you may have them on hand or find quickly in your local grocery store.
This Lentil and Beet Salad is a meat free dinner. Many people are opting for a meatless meal one night per week in order to help reduce their risk of cancer, heart disease, diabetes, support weight loss, as well as reduce their carbon footprint. But, meatless dinners can be tricky for bariatric patients. Due to the reduced overall caloric content of their post bariatric surgery diet, gastric sleeve, gastric bypass, and gastric band patients need to make consuming adequate protein a priority at meal time. This salad offers protein from three sources- lentils, pine nuts, and feta cheese- making this salad a good choice for a meat free meal.
In addition to providing 18 grams of protein per cup, lentils are a great source of dietary fiber, which keeps you feeling fuller for longer and helps promote bowel regularity. Lentils are also a rich source of molybdenum, folate, iron, copper, and phosphorus. While beets are also known for their fiber and folate content, the real beauty of the beet is in its color. The red betalain pigments contribute to the antioxidant, anti-inflammatory, and detoxification properties of this wonderful colorful and delicious vegetable.
Lentil and Beet Salad
Ingredients:
1 can whole baby beets
1 can brown lentils
2 tbsp balsamic vinegar
2 tbsp olive oil
4 tbsp pine nuts
Basil leaves, to taste
1 container crumbled feta cheese
Salt and pepper, to taste
Directions:
Drain cans of baby beets and lentils thoroughly.
Cut beets into cubes or quarters and place in a bowl.
Add drained lentils to bowl.
Mix balsamic vinegar and oil in a separate bowl and drizzle over the beet and lentil mixture.
Tear basil leaves and add to bowl. Season with salt and pepper. Toss ingredients gently.
Place mixture on a serving dish. Top with crumbled feta cheese and roasted pine nuts.
Serve and enjoy.
This meatless dinner is offered by Dr. Shillingford, M.D. P.A., a board certified general surgeon specializing in advanced laparoscopic and obesity surgery. Dr. Shillingford's gastric sleeve, gastric bypass, and adjustable lap band patients come from many locations in South Florida, including Boca Raton, Delray Beach, Miami, Wellington, Hialeah, and Coral Springs, as well as Jacksonville, Orlando, and Cocoa Beach. Dr. Shillingford's bariatric patients are often looking for protein packed recipes, and this Lentil and Beet Salad delivers protein even without the meat.