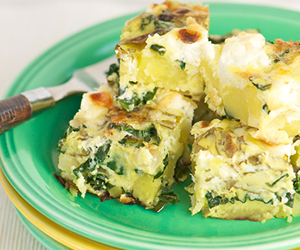 This Kale and Sweet Potato Frittata works on so many levels. By incorporating two superfoods (kale and sweet potatoes) you know it's packed with nutrients like vitamin A, vitamin C, folate, vitamin K, manganese, and copper as well as a long list of other nutrients. The eggs provide high quality, easily tolerated protein, which is ideal for gastric sleeve, gastric bypass, and lap band patients. The fiber from the kale and sweet potato can even help you feel fuller for longer, which is great for promoting weight loss. It cooks up quickly, making it a good choice even for a busy weeknight dinner. Add a pretty salad and it can even be fancy enough for company. It works for breakfast, lunch, or dinner. It's full of protein, fiber, and antioxidants. It's easy to fit into a post bariatric surgery diet and promote weight loss. What more can you ask for? Make it today!
Kale and Sweet Potato Frittata
8 large eggs
3 tbsp parmesan cheese
2 tbsp olive oil
1 medium red onion, chopped
1 bunch kale, washed, destemmed and chopped
1 medium sweet potato
1 clove minced garlic
¼ tsp sea salt
¼ tsp freshly ground pepper
Directions:
Wash and dry sweet potato. Poke holes in the skin using the tines of a fork. Microwave until soft, about 5 minutes, turning over halfway. Peel and dice into small pieces when cool.
Whisk together eggs and half the cheese in a separate bowl.
Using a non-stick broiler proof skillet, heat olive oil over medium heat, add onion and saute until soft (about 5 minutes). Add minced garlic and saute one more minute.
Once onion is soft, add a handful of chopped kale to the hot pan, once wilted, stir and add another handful until it's all added and cooked. Season with salt and pepper. Add sweet potatoes and saute for 1-2 minutes.
Add eggs and stir to distribute vegetables evenly with the eggs. Reduce heat and cover. Cook until eggs are almost set, about 4 minutes. Remove lid. Sprinkle with remaining cheese.
Place pan in preheated broiler until eggs are completely set and the top begins to brown (about 1-3 minutes). Enjoy!
This recipe is offered by Dr. Shillingford, MD, PA, a board certified surgeon specializing in advanced laparoscopic and weight loss surgery. Dr. Shillingford, a Center of Excellence surgeon, offers gastric sleeve, gastric bypass, and lap band surgery to his patients seeking to lose weight safely and effectively. Overweight and obese patients who have tried losing weight and have been unsuccessful have turned their lives around after weight loss surgery with Dr. Shillingford. Many have lost over a hundred pounds, lost several inches off their waistline, improved their blood pressure and improved or cured their type 2 diabetes, and have finally been able to keep up with an active lifestyle. Don't wait, call Dr. Shillingford today at (561) 483-8840 and get your life back!