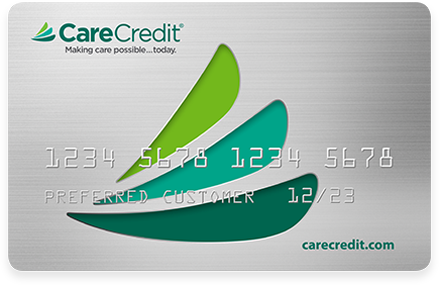 Not everyone has health insurance, and even those who have health insurance may not have coverage for bariatric procedures. Each insurance policy is different. To learn if you have coverage for gastric sleeve, gastric bypass, or lap band surgery, it's best to read your plan documents or call your insurance provider to find out.
If you do have insurance coverage for gastric sleeve, gastric bypass, or lap band surgery and meet your insurer's requirements, that's great news. Dr. Shillingford, MD, PA accepts many insurance carriers. If you are ready to learn more about bariatric surgery, you can schedule a free informational session with Dr. Shillingford to learn which procedure might be right for you.
If you do not have bariatric coverage with your insurer, don't fret, you aren't out of options. Dr. Shillingford has a self pay package and also accepts CareCredit.
What is CareCredit?
CareCredit is like a credit card but a little different. The primary reason it is different is that it can be used for out-of-pocket medical expenses that are not covered by insurance. Special financing can be available. This can include shorter term financing or longer term financing depending on your need and credit approval. CareCredit can not be used at typical stores, rather it is accepted at over 200,000 enrolled healthcare providers nationwide. You can read more about Care Credit here.
Are There Any Benefits to Using CareCredit?
One benefit to using CareCredit is that it can allow you to access medical care sooner than you may otherwise be able to pay out of pocket. For those with serious medical concerns, this can be important. Type 2 diabetes, hypertension, sleep apnea, and risk of heart attack or stroke can be serious issues for people with obesity and for some may require prompt medical attention. If insurance does not cover the necessary procedure, such as gastric sleeve, gastric bypass, or lap band surgery, CareCredit may help you be able to pay for it without delaying treatment.
Are There Any Down Sides to CareCredit?
You do have to apply for CareCredit, and not everyone may be approved. It is also not accepted at every doctor's office (but it is accepted at Dr. Shillingford's office). Also, there can be financing charges associated with your CareCredit account, which may increase the overall cost of the procedure.
If you are considering using CareCredit to pay for gastric sleeve, gastric bypass, or lap band surgery, you should read the details here before calling Dr. Shillingford's office at (561) 483-8840 or applying directly from Dr. Shillingford's website. There are also other financing options that you can consider. Bariatric surgery is a weight loss option that can help many people lose weight and keep it off, as well as help lower blood pressure, help normalize blood sugar, and help those with sleep apnea decrease their breathing problems. Dr. Shillingford, MD performs gastric sleeve, gastric bypass, gastric band, and revisional surgery at Northwest Medical Center's Center of Excellence in Bariatric Surgery, where he proudly serves as Medical Director. Dr. Shillingford provides follow up care in his Boca Raton office, which is conveniently located for weight loss surgery patients traveling from Miami, Fort Lauderdale, Coral Springs, West Palm Beach, and even Orlando.