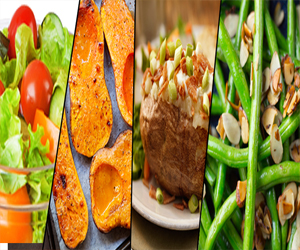 It has been estimated that the average American consumes roughly 3,000 calories on Thanksgiving day. That would take the equivalent of walking 27 miles to burn off. So, unless you have time for a marathon, a better choice is to take control your food and calorie intake this Thanksgiving.
Easier said than done. Thanksgiving is a holiday that is centered around food. It's impossible to escape the intoxicating aromas of turkey, gravy, cranberries, potatoes, and pie. But, by being smart and selective, you can enjoy a Thanksgiving meal with far fewer calories and keep on track with your post surgical weight loss.
An easy way to make healthy food choices on Thanksgiving is to follow the guidelines gastric sleeve, gastric bypass, and gastric band patients are taught after their bariatric surgery. Focus on your protein first, then vegetables, fruits, and whole grains. White meat turkey has less calories and fat than dark meat, making turkey breast a good choice for your protein. Limit or decline gravy to conserve calories and unhealthy fats. Green salad, roasted butternut squash, green bean almondine, or a baked sweet potato could be healthier vegetable choices than mashed potatoes, sweet potato casserole, or green bean casserole. Homemade applesauce or cranberry relish make for better replacements for gravy. Not many people put out dishes made with whole grains on Thanksgiving. If you just have to have some stuffing to make your Thanksgiving complete, opt for a very small portion and savor the flavors.
Traditional Thanksgiving
Turkey and Gravy
Mashed Potatoes with Gravy
Candied Sweet Potatoes
Green Bean Casserole
Cranberry Jelly
Stuffing
Lower Calorie Thanksgiving
Turkey (white meat)
Homemade Cranberry Relish
Baked Sweet Potato with Cinnamon
Green Beans Almondine
Green Salad
Another simple way for gastric sleeve, gastric bypass, and lap band patients to limit their calorie intake on Thanksgiving is to avoid alcohol. This is true for anyone trying to lose weight. In general, bariatric patients should avoid alcohol, but on Thanksgiving glasses of wine can really add up. Instead, sparkling water can be a good choice. Or, as always, plain water with a wedge lemon or lime can be refreshing. Lap band patients should remember to separate their food and fluids, even on Thanksgiving.
Dessert can be a sticky subject. For some, dessert is easy to avoid, especially if they are feeling full and satisfied after the Thanksgiving meal. But for others, Thanksgiving doesn't feel complete without dessert. If you choose to end your holiday meal on a sweet note, consider opting for pumpkin pie over pecan to save on calories. Also, skip the whipped cream, and choose a small piece of pie or split a piece with someone who is also looking to avoid a 3,000 calorie day.
The above is offered by Dr. Shillingford, M.D., P.A., a board certified surgeon specializing in advanced laparoscopic and obesity surgery. Dr. Shillingford's Boca Raton office is conveniently located to serve his South Florida patients coming from Fort Lauderdale, Miami, Coral Springs, Wellington, and West Palm Beach as well as his patients who travel from Orlando, Jacksonville, New York, New Jersey, Texas, and Ohio. His gastric sleeve, gastric bypass, and gastric band patients are often seeking information on healthy eating and weight loss, especially around holiday time.