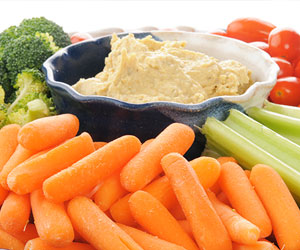 July 4th, or Independence Day, is just around the corner. And in keeping with the idea of independence, we want our gastric sleeve, gastric bypass, and lap band patients to feel independent from social pressure to overeat or eat the wrong foods this holiday. An invitation to a holiday party doesn't have to be an invitation to overindulge. Just because unhealthy food is there, doesn't mean you have to eat it. Of course, having better and healthier choices available can make your autonomy and decision making much easier. So, if you are invited to a Fourth of July holiday party, considering bringing a dish (or dishes) that fits in well with your post bariatric surgery diet. This will help keep you on track for weight loss and prevent feelings of guilt for overindulging.
As an appetizer:
Avocado filled deviled eggs
Hummus and fresh veggies
Caprese salad
As a main entree:
Chicken satays
Shrimp and vegetable skewers
Meatball size sliders wrapped in lettuce
As a side dish:
3 bean salad
Roasted cauliflower florets
Avocado and tomato salad
As a dessert:
Watermelon steaks topped with ricotta and a sprig of mint
Strawberry, banana, blueberry kabobs
Sugar free gelatin made in individual cups with a dollop of sugar free whipped topping
You can have a great time at a July 4th party without straying from your post gastric sleeve, gastric bypass, or lap band diet. As always, remember portion control. Eating too much of a good food isn't good for you either.
Do not forget to chew your food thoroughly, and drink plenty of water (or other calorie free beverage) between meals.
The above suggestions are offered by Dr. Shillingford, MD, PA, a board certified surgeon specializing in gastric sleeve, gastric bypass, and lap band surgery. Dr. Shillingford's patients come from all over the state of Florida, including Boca Raton, Miami, Fort Lauderdale, Tampa, Orlando, Jacksonville, and Parkland, to have their bariatric surgery performed by a Center of Excellence surgeon at a Center of Excellence in Bariatric Surgery. While bariatric surgery has been proven to be the most effective treatment for morbid obesity, bariatric patients who commit to following their doctor recommended post bariatric surgery diet and incorporate exercise into their post bariatric surgery lifestyle typically lose the most weight and are able to maintain their weight loss.