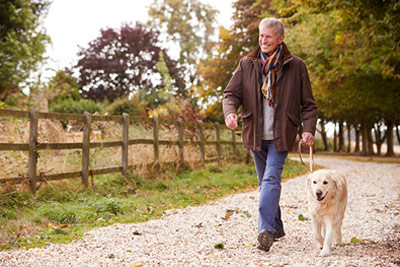 Walking your dog can count as exercise. For gastric sleeve, gastric bypass, and lap band patients that can be a good thing. As January is Walk Your Dog Month, it seems a good time to highlight the health benefits associated with walking your dog (and walking in general):
Improved cardiovascular fitness
Stronger muscles and bones
Lower blood pressure
Reduced stress
Helps regulate blood sugar levels
Improves balance
May actually ease muscle and joint pain or arthritis
Walking is one form of exercise that you can do while recovering from your weight loss surgery. As long as you follow Dr. Shillingford's (or your bariatric surgeon's) lifting restrictions, walking should be something you can do soon after you return home from your surgery. Aim for walking your dog for thirty minutes five times a week. You may have to work up to this. You can break it up into two or three smaller walks a day while you regain your stamina.
Walking will get your heart pumping, blood flowing, and help you begin to establish an exercise routine. It can also help you keep your bowels regular. You will have to start slowly after your surgery. Thankfully, walking your dog often provides ample reasons to stop to catch your breath. For gastric sleeve, gastric bypass, and lap band patients who have been cleared to exercise at their follow up appointment with Dr. Shillingford, you can try walking your dog faster or even jogging for 1 minute at a time. Some dogs will love it, some won't. But, getting your dog out for a walk every day can help you burn calories, strengthen your muscles, and reduce your stress levels.
If you don't have a dog, you have a couple of choices to still get the health benefits. You can go for walks without a dog. This may not be quite as fun, but it allows you to go at your own pace and on your own schedule. Or, you could ask to walk a neighbor's, friend's, or family member's dog. Another option is that you could go on a walk with someone while they walk their dog. This is a good way to find a walking buddy and makes the time you are exercising seem more like fun and less like exercise.
If you have questions about exercising after your gastric sleeve, gastric bypass, or lap band surgery, call Dr. Shillingford's office at (561) 483-8840 and ask. Any exercise that involves lifting should wait until you have been medically cleared to exercise at your post-bariatric surgery follow up appointment. Incorporating exercise into your post-bariatric lifestyle is crucial to both maximizing your weight loss and improving your overall health. And walking is a great way to start.