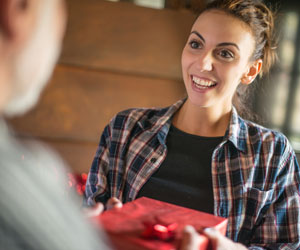 June 18th is Father's Day. If you haven't gotten the father in your life a gift yet, this may be one blog to read or share with friends or family.
Instead of a traditional tie, why not choose a gift that lets him know you love him and want him in your life for as long as possible. Gifts that are thoughtful, but also health promoting, can be a good choice. Some of these gift ideas can work for any father in your life- you father, husband, son, brother, grandfather, uncle, or even a father figure. Consider his needs and tailor the gift to help him achieve his goals quicker or with a bigger smile on his face.
If eating better is a priority for him, consider a gift that encourages better ingredients or more healthful ways of cooking. If getting out and exercising more is something he talks about, help him out with a gift that encourages sports or activities. If the dad in your life is doing a great job of eating healthy, losing weight, and improving his fitness levels, reward him with something to complement his new lifestyle and lets him know that his hard work is being noticed.
We've gathered a few ideas that may encourage exercise, fitness, healthy eating, weight loss, and an overall healthy lifestyle. Even if these ideas won't work, they may help you brainstorm other ideas that can be just as thoughtful for the father in your life.
Grill
Grill accessories (such as a skewer set, grilling basket for vegetables, or a cookbook)
Golf day
Golf clothes or equipment (new golf bag, golf clubs, monogrammed golf balls or tees)
Snorkel set
Gym membership or personal training gift certificate
Cruising bike
Roller blades
Fishing rod or tackle box
Gift certificate to a gourmet market or his favorite healthy food establishment
Swim shirt with sun protection
Lunch box or bento box
Sushi-making kit
New sneakers
Smaller sized clothing or belt
Fruit tree or herb garden
Activity monitoring watch
Paddleboard or kayak
For the dad who has everything or you're not sure which size to buy, consider giving the gift of an "experience." A day of rock climbing, or a day on a deep sea fishing boat, or even an afternoon of playing laser tag with the family can create a fun and lasting memory of a fantastic Father's Day celebration.
These Father's Day ideas are offered by Dr. Shillingford, MD, PA, a board certified surgeon specializing in advanced laparoscopic and obesity surgery. Dr. Shillingford encourages a healthy lifestyle for his gastric sleeve, gastric bypass, and lap band patients, which includes healthier eating and incorporating exercise into our regular routines. Many of Dr. Shillingford's weight loss surgery patients come from Miami, Fort Lauderdale, Boca Raton, Orlando, Naples, and Jacksonville, where the weather frequently encourages getting outdoors for exercise and sports. Whatever you get for the dad in your life this Father's Day, the most important gift may just be your love and support.