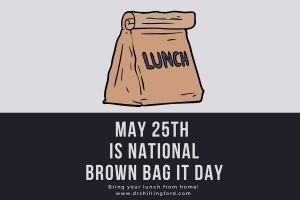 Back in the days when people took meals packed from home, they usually took them in brown paper bags. These days the lunchbox has gotten a significant makeover, including handles, straps, designs, cooling technology, and separate compartments. With all of these innovations, bringing meals from home shouldn't be seen as a punishment.
To encourage people to choose a healthier and more economical approach to lunch, we now have National Brown Bag It Day. For gastric sleeve, gastric bypass, and lap band patients, bringing food from home is a necessity after bariatric surgery, especially in the beginning. It's not easy to find restaurants who cater to the specific dietary needs of the post gastric sleeve, gastric bypass, and gastric band diets.
But for those who are thinking about having weight loss surgery or who have surgery scheduled, participating in National Brown Bag It Day is a good way of practicing for a change in your eating habits. Dietary compliance is essential to making weight loss surgery successful, as is incorporating exercise into your lifestyle. A good way to start is by bringing food from home and eliminate or reduce eating out for lunch (and breakfast, too). Get your practice on National Brown Bag It Day!
To learn more about the differences between the gastric sleeve, gastric bypass, and lap band surgeries, check out our comparison guide here: www.drshillingford.com/compare-bariatric-surgery.html. To schedule a free Informational Session to learn more and meet Dr. Shillingford, call his office today at (561) 483-8840. Dr. Shillingford's Boca Raton office is centrally located to nearly Miami, Fort Lauderdale, Parkland, and West Palm Beach, yet he attracts patients from all over the state of Florida, including Orlando, Tampa, Naples, and Jacksonville with his compassionate bedside manner and excellent surgical skills.