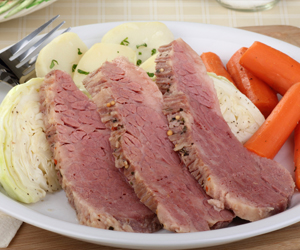 March 17th is St. Patrick's Day, and the traditional Corned Beef and Cabbage dishes can be found all around. But the best recipe will likely be the one you make at home. By making it yourself, you can make sure to use quality ingredients and eat the portion that is the right size for you, whether you have a gastric sleeve, gastric bypass, or adjustable lap band. Having bariatric surgery doesn't have to mean you have to skip this traditional Irish meal, but by slimming it down and limiting the potatoes, you can help make it fit into your diet.
Beef, in general, is not as well tolerated by many bariatric patients as other more tender meats. So, using a slow cooker can help tenderize the beef. Cabbage is a low calorie, high fiber vegetable that tastes sweeter once it's cooked. Cabbage is packed with vitamins and minerals (such as vitamin K, vitamin B6, vitamin C, manganese, and potassium) as well as anti-inflammatory nutrients and an impressive amount of antioxidants. This recipe does not call for potatoes, which although they are a mainstay of Irish cuisine, are high in simple carbohydrates. Either eliminate them from your St. Patrick's day dish, or include them in a small amount.
Corned Beef and Cabbage
Recipe Adapted from Wellness Mama
Ingredients
3-4 pound corned beef brisket
3-4 cloves garlic
Pepper to taste
1 large head of cabbage
2 sweet onions
2 additional cloves garlic
1 large carrot
Butter
Spices to taste
Whole grain mustard
Instructions
Put corned beef in crock pot for 8 hours on low heat with 3-4 cloves garlic, pepper, and enough water to cover the meat.
Slice carrots, onion, 2 cloves garlic, and cabbage.
When the corned beef has about a half hour left to cook, begin to saute the onions, garlic, and carrots in butter in a large skillet until somewhat soft.
Add cabbage and spices and saute until soft. Add a little corned beef water from the crockpot if it starts to get dry.
Slice corned beef and serve over the vegetable mixture. Use a grainy mustard for extra flavor.
This recipe is offered by Dr. Shillingford, M.D., P.A., board certified surgeon specializing in laparoscopic and bariatric surgery. Dr. Shillingford's gastric sleeve, gastric bypass, and adjustable lap band patients come to his Boca Raton office from all over South Florida, including Delray Beach, Miami, Fort Lauderdale, and Miramar, as well as Orlando and Jacksonville. Dr. Shillingford's bariatric patients often want to be able to celebrate holidays while still maintaining their post bariatric surgery weight loss diets.