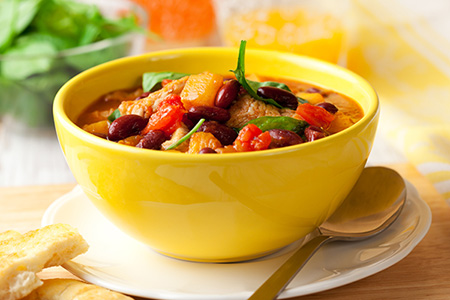 Fall is a great time to add pumpkin to your diet. While canned pumpkin is available all year round, seeing fresh pumpkins in the stores and as decorations can really put us in the mood for pumpkin flavor. For most people, they think of pumpkin bread, pumpkin pancakes, or pumpkin chai lattes. But for bariatric surgery patients, pumpkin is best incorporated into protein-rich meal.
One meal that pumpkin adds a nice flavor to is chili. There are lots of variations of pumpkin chili, so if this one doesn't work well for you try another version. This adaptation calls for adding fresh spinach, which adds extra nutrients (vitamins A, C, E, and K, calcium, iron, folate, and fiber) while only adding an extra seven calories per cup of fresh spinach. The pumpkin puree does add carbohydrates to this protein-rich meal, and bariatric patients need to be mindful of their carbohydrate intake. One cup of pumpkin puree provides 83 calories and 20 grams of carbohydrates.The amount of carbohydrates you consume from the pumpkin will depend on amount of pumpkin consumed. Small amounts of pumpkin will only add a few grams of carbohydrates to your diet. (for example, 1 oz pumpkin provides about 2 grams of carbs). But gastric sleeve, gastric bypass, and lap band patients should take that into account when planning their meals and counting their daily carbohydrate intake as Dr. Shillingford recommends that weight loss surgery patients consume less than 50 grams of carbohydrates a day.
Pumpkin Turkey Chili
Adapted from Whole Foods' Recipe
2 tbsp extra virgin olive oil
1 pound ground turkey
1 onion, chopped
1 green or red bell pepper, seeded and chopped
1 cup fresh spinach, chopped
2 jalapeños, seeded and finely chopped (if you can tolerate spicy)
2 cloves garlic, minced
1 can diced tomato with liquid
1 can 100% pumpkin puree (NOT pumpkin pie filling)
1 can red or white kidney beans, rinsed and drained
1 cup water (less if desired)
1 tbsp chili powder
1 tsp cumin
salt and pepper to taste
Directions:
Heat oil in a large pot over medium-high heat. Add onion, bell pepper, and jalapeños, cook about 5 minutes, stirring often, until tender. Add garlic and spinach and saute for 1-2 minutes. Add turkey, breaking it into smaller pieces with a wooden spoon as it cooks. Cook until browned, then drain fat. Add tomatoes, pumpkin, water, and spices (you can add half the water to start and add more as desired). Reduce heat to low and add beans. Cover and simmer for about 30 minutes, stirring occasionally. Garnish with plain greek yogurt, shredded cheddar, cilantro, or diced avocado for extra flavor.
The above recipe idea is offered by Dr. Shillingford, M.D., P.A., a board certified general surgeon specializing in bariatric weight loss surgeries, including adjustable lap band, gastric sleeve, and gastric bypass as well as advanced laparoscopic and robotic surgeries. Dr. Shillingford and his staff enjoy providing patients with information on foods that can be incorporated into their post surgical bariatric diet. Dr. Shillingford's gastric sleeve, gastric bypass, and adjustable lap band patients come from all over South Florida, including Boca Raton, Fort Lauderdale, Miami, Coral Springs, and Vero Beach.