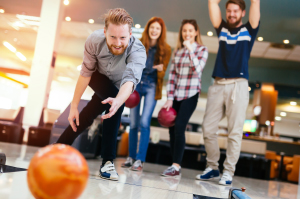 In addition to eating fewer calories, bariatric patients need exercise to help them lose weight after gastric sleeve, gastric bypass, or lap band surgery. Sometimes all you can find is a small window to fit your exercise in. But don't despair, you can still find something to do to burn calories and help you maximize your weight loss, especially if you can find a few small windows of time each day. Exercise doesn't have to last a long time to burn calories, we got 5 quick ways for Dr. Shillingford's bariatric patients to burn about 100 calories.
Go Bowling: Looking for something to do on a rainy or too hot weekend? Give bowling a try! It's fun, and in less than a half-hour, you can burn 100 calories, or even more if you dance to the music while you wait for your ball or your turn.
Walk the Dog: Not the yo-yo trick, but actual dog walking can be a great exercise. Walking your dog (or a neighbor's dog) at a brisk pace of 4 miles per hour can burn 100 calories in under 20 minutes.
Swim Some Laps: If you have a pool or access to a local pool, swimming laps is a great way to cool off while you burn calories. In less than 15 minutes of normal swimming, you can burn about 100 calories. Or if you can do the breaststroke you only need less than 10 minutes!
Jump Rope: Jumping rope is great because you can do it at home in the driveway or on your back patio for more privacy. In less than 10 minutes you can get your heart pumping and burn 100 calories.
Dance Dance Dance: You don't have to be good at it, but dancing is fun and good exercise. Sure, you could take a class on ballroom or exotic dancing, but rocking out to some good tunes in the privacy of your own place burns 100 calories in about 15 minutes.
Exercise is crucial for gastric sleeve, gastric bypass, and gastric band patients to lose weight, build lean muscle, improve their blood pressure, and reduce their blood sugar levels, as well as improve self-esteem and stress levels. You don't have to make each workout session long, sometimes fitting in 10-20 minutes is all you can do, but make it count! Make sure you sip your water to prevent dehydration and only engage in exercise after you've been cleared to exercise and lift weight by your bariatric surgeon.
Dr. Shillingford, MD, PA, is a Boca Raton based board-certified surgeon specializing in advanced laparoscopic and weight loss surgery. Dr. Shillingford's gastric sleeve, gastric bypass, and lap band patients are encouraged to incorporate exercise and strength training into their post-bariatric surgery lifestyle (after an appropriate amount of time and have been cleared to exercise by Dr. Shillingford). If you are considering bariatric surgery, we encourage you to attend one of Dr. Shillingford's free informational sessions to learn which surgery- gastric sleeve, gastric bypass, or lap band- is the right fit for you. Call Dr. Shillingford at (561) 483-8840 to schedule your free informational session today.