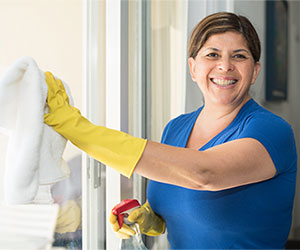 It's cold up in the North and Midwest states. Many states, like Michigan, are seeing freezing temperatures, snow, and ice. The cold winter weather and winds can make it hard for people trying to lose weight to get out and exercise. Running outside in the snow and freezing temperatures can be dangerous. Cycling becomes impossible. Even taking a walk can be a challenge. But, that's no reason to skip a workout. Even if the weather is cold, you can still burn calories. Here are 5 free ways to keep you exercising, even in the Michigan-style cold.
Stairs

Running or walking up and down the stairs of your home, apartment complex, or office building can be a great workout for your heart and legs. If you have access to a stairwell with inside hallways, you can even get out on some or all floors and walk the length of the hallway to extend your workout. For those bariatric patients who are just starting out exercising, you may find walking up the stairs to be enough to raise your heartrate and burn calories, and for weight loss surgery patients who are more experienced at exercising, stairs can be taken two at a time for a harder workout.

Mall Walking

Michigan is home to some great shopping malls, such as Great Lakes Crossing in Auburn Hills, Arbor Hills Shopping Center in Ann Arbor, Woodland Mall in Grand Rapids, and even the dog friendly Mall at Partridge Creek located north of Detroit. Malls are perfect for walking as they are temperature and weather controlled, well lit, and provide great visual distractions such as window shopping and people watching, which can make your time walking seem to fly by. What's more is that each time you go there to walk you will see different and hear different things, which can keep your workout fresh and never boring. You can also meet or bring some friends.

Home Workout

Thanks to Netflix, YouTube, and Wii you can get a great workout in the comfort of your own home. You can choose an exercise that you prefer, such as yoga, pilates, boxing, tennis, aerobics, or zumba, there's something for everyone. Home workouts are great for bariatric patients who are nervous to take a class at a gym or need to be able to take a break in between exercises. They can also be done at any time of day, like before work, after dinner, or while a young child is napping.

Dancing

Crank up the music and just dance. You can do it alone or recruit your partner, roommate, friend, or sibling to join in on the fun. You can even dance while dinner is cooking. Just make sure you get your arms and legs going, your heart pumping, and you start to work up a sweat. Just shuffling your feet won't count as dancing here, so dance like you mean it!

Cleaning

This one is not as fun as the others, but you'll wind up with a clean house so it's definitely worth trying. Making beds, vacuuming, mopping, washing windows, dusting, and scrubbing bathrooms may not sound like exercise, but pay attention as you do it and you'll find yourself stretching, reaching, lifting, and possibly going up and down stairs or a ladder while you clean. Scrubbing grout can be a definite workout for your arms, but make sure to give your nondominant hand a turn too. If you run out of things to clean in your home, you could go through closets and drawers and weed out clothes that are now too big for you or things you no longer use or want. Donate your gently used items to a local charity and it's a win-win for everyone.
These five free exercise tips are offered by Dr. Shillingford, MD, PA, a board certified surgeon specializing in gastric sleeve, gastric bypass, and gastric band surgery. Dr. Shillingford, a graduate of the University of Michigan Medical School in Ann Arbor, is a Center of Excellence Surgeon who is also certified in da Vinci robotic assisted surgery. Dr. Shillingford encourages his gastric sleeve, gastric bypass, and lap band patients to incorporate exercise into their post bariatric surgery lifestyle in order to maximize their weight loss and improve their muscle tone, balance and coordination, improve their blood pressure and blood sugar control, and encourage feelings of mental and physical well being.