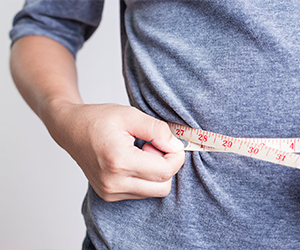 Bariatric surgery patients can often expect to lose 30 to 40 percent of their body weight, depending on the type of bariatric surgery performed. Some lose more, some lose less, and factors that affect who loses and how much are not very well understood.
A recent study published in JAMA Surgery looked into preoperative (before surgery) factors to see which had the most impact on the patient's successful weight loss after Roux-en-Y gastric bypass surgery. 726 gastric bypass patients were followed 7 to 12 years after their surgery to determine percentage of weight loss. Patients' electronic medical records were scoured for demographics, comorbidities, medications, and laboratory test results.
Among the 726 gastric bypass patients, 83% were female, 97% were white, and the average presurgical BMI was 47.5. Between surgery and the long term follow up, the average weight loss for all participants was 22.5%. The top three factors that were associated with a higher than average percentage of weight loss were:
Preoperative insulin use
History of smoking
Use of 12 or more medications prior to surgery
The study did not delve into the reasons why these 3 factors were associated with greater weight loss after bariatric surgery. However, they did write that one possible explanation is that insulin use and history of 12 or medications might necessitate greater interaction with the health care system, which may lead to better post surgical adherence, and increased weight loss.
Conversely, the three preoperative factors that appeared to contribute to the least successful percentage of weight loss were:
Preoperative hyperlipidemi
Older age
Higher body mass index (BMI)
Study authors did not try to hypothesize the reasons for these three factors to have the most negative associations with percentage of weight loss. But they did say that this information can be used to help guide clinical care and improve informed consent discussions about bariatric surgery.
If you or a loved one is contemplating gastric sleeve, gastric bypass, or adjustable lap band surgery, consider attending one of Dr. Shillingford's free informational sessions held weekly in his Boca Raton office. Dr. Shillingford, M.D., P.A., is a board certified surgeon specializing in obesity surgery and performs gastric sleeve, gastric bypass, and adjustable lap band surgery. His patients come from all over Florida for his services, including Delray Beach, Miami, Fort Lauderdale, Wellington, Orlando, Tampa, Jacksonville, and many locations in between. Dr. Shillingford can help you decide which type of bariatric surgery is right for you. Call Dr. Shillingford today at (561) 483-8840 to schedule your appointment.